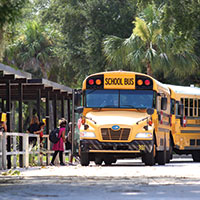 Beachland Elementary open again, and masks may be gone by end of the month
STORY BY GEORGE ANDREASSI (Week of September 16, 2021)

Beachland Elementary students tried to get back to their normal routine last week after a COVID-19 outbreak sidelined more than a quarter of the staff and shut down the school for two weeks,  and if the downward trend in new cases continues, school officials say normal could mean no masks by month's end.
The barrier island's only public school reopened Sept. 7 and no staff members have tested positive for the virus since Sept. 2, school district records show.
"So far, so good this week," said Stacy Hazell, whose daughter attends fourth grade at Beachland Elementary. "It was business as usual, it seemed to me. We haven't had any problems. My child's not been quarantined."
"She did say there were seven children out from her class in a class of 20, so there were only 13 in her class," Hazell said Friday afternoon. "The children were wearing the masks. It was not a problem at all."
But Carlos Torres, who has a daughter in second grade and a son in kindergarten at Beachland Elementary, questioned the reopening of the school.
"It's crazy that the virus is going up and we're coming back to the school," Torres said. "The children are scared. They said, 'Daddy, the school had another situation with COVID.' Every day in the afternoon, they send a (text) message, they have another COVID situation."
The school district shut down Beachland on Aug. 27 because of a COVID-19 outbreak in which 16 of 51 staff members were diagnosed with the virus.
The shutdown came three days after the School Board reinstated a mandatory face mask policy for all 22 public schools. The policy was to expire Wednesday (Sept. 15) unless extended by the board Tuesday night (Sept. 14).
Schools Superintendent David Moore said the pandemic has receded in Indian River County to the point where the mandatory facemask policy will be phased out by the end of September, at the latest.
"I can't see it going any further than the end of this month," Moore said. "We're definitely trending in the right direction."
The day the mandatory facemask policy was reinstituted, 54 staff members were out sick with COVID-19, Moore said.
A total of 13 staff members were out with the virus on Monday (Sept. 13), district records show.
"We are definitely, as a county, on the back side of this Delta variant, whatever that variant was," Moore said.
However, the relatively high number of students out with COVID-19 remains a concern, Moore said.
A total of 899 students have tested positive for COVID-19 so far this year, approaching the total for the entire 2020-2021 school year, district records show. There were 67 students out with the virus on Monday (Sept. 13).
"I'm still not comfortable with that number," Moore said. "I want to see that number continue to go down."
A total of 185 staff members have tested positive for COVID-19 since the new school year started August 10, district records show.
While some schools like Beachland and Treasure Coast Elementary schools have had staff outbreaks that required them to be closed, Moore said other schools, like Dodgertown Elementary, have had only a handful of cases.
Moore said he'll propose plans to the School Board so that health and safety measures will be tailored to each school according to its level of COVID-19.
That strategy will allow the school district to impose mask mandates at the hardest hit schools without riling up anti-mask parents at the schools that have been relatively unaffected by the virus, Moore said.
"As a community, we don't have to have this big pressuring, divided decision by the School Board on 'Do we mask, or do we not mask,'" Moore said.
"We have an approach that is appropriate by school that will be applied," Moore said. "It removes the divisiveness for a future decision that we know is coming. We know it's going to be there."
While requiring students to wear facemasks is a controversial issue at some schools, several parents at Beachland Elementary said they support the mandatory facemask policy.
"My daughter was one of them that got COVID," said Annia Cozo, the mother of a fifth-grader at Beachland Elementary. "Before, they had the option with the masks. They didn't force everybody to have masks. Now, it's going to be mandatory. I guess it's good, otherwise there will be more cases."