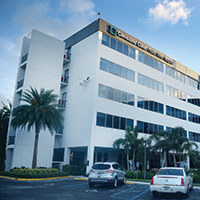 Cleveland Clinic Indian River nurses vote to keep union
STORY BY MICHELLE GENZ (Week of September 23, 2021)

Contract negotiations between Cleveland Clinic Indian River Hospital and the union representing its registered nurses have intensified, as a Sept. 30 deadline for a new contract approaches, after an election that could have thrown the union out instead revealed overwhelming support.
Among the issues still under negotiation at press time: whether to give RNs a more generous maternity and paternity leave plan, the same plan extended to the rest of the hospital staff in April of last year. Last week, the hospital told union negotiators they could not afford to include nurses in that benefit, according to the union.
A spokesperson for the hospital, Scott Samples, said: "Because we are still in the negotiation process, it would not be appropriate to comment on specific details at this time."
Indian River is the only one of five Cleveland Clinic Florida hospitals to have unionized nurses.
By a more than 2 to 1 margin, Indian River nurses voting in the so-called decertification election chose to keep the union that has represented them for 23 years.
Of the 455 RNs at the hospital, all of whom were eligible to vote whether they were dues-paying union members or not, 267 voted in the vote-by-mail election that took place over the course of nearly five weeks in August and September. Votes were counted Sept. 9: 181 voted to keep the union and 84 voted to independently work out compensation and other employment issues with management.
"I thought we were going to win," said Steve Myers, business agent for the Teamsters Local 769, which represents RNs at the hospital. "I wasn't sure by what margin."
Nurses were notified of the so-called decertification vote in July when Dr. Gregory Rosencrance, the hospital's president, sent out a letter saying a petition filed by a nurse had garnered enough signatures to warrant a formal vote, a move authorized by the National Labor Relations Board.
"We know what caused the decertification election to take place – the hospital's whisper campaign that they wanted to pay nurses more money but that the union was preventing that from happening," said Myers. The union filed an unfair labor practice charge with the National Labor Relations Board, which he said was still under investigation. Other charges have also been contemplated, he said.
Two weeks ago, as the final vote was tallied, Cleveland Clinic appeared to be stalling on the new contract, Myers said, offering up proposals that Myers called "surface bargaining" rather than "get down to the meat and potatoes issues of the contract."
"The election gave them an excuse to stall on negotiations since the administration believed the decertification would pass," Myers said.
Last week, Cleveland Clinic had agreed to pay out staffing incentive bonuses if nurses choose to work extra shifts, Myers said. But his hope was to also offer what some call hazard pay to work in areas of the hospital treating COVID-19  patients.
"We have nurses that are dealing with COVID patients that aren't getting paid any different than other nurses. That's really sad. We're trying to reach an interim agreement for ICU and emergency room nurses right now, but so far, the hospital has been unwilling (to increase pay)."
Indian River's RNs are working alongside other staff that last spring became eligible for fully paid maternity leave and paternity leave. New mothers who aren't RNs get eight weeks of maternity leave plus four weeks of parental leave; the other parent gets four weeks of parental leave.
The policy applies to same sex couples, adoptive parents, and surrogate parents. Without the benefit, RNs get parental leave, as mandated by federal law, but it is unpaid unless they use time in their "paid time off bank."
Nationally, nurses employed by hospitals are feeling short-changed as the ranks of so-called travel nurses grows during COVID-19. Those nurses, employed by agencies typically at much higher rates of pay but with fewer benefits, have increased in ranks, with some staff nurses resigning from hospitals to work for more money – including at their former hospitals.
Some hospitals told Modern Healthcare last week that they regret laying off nurses when patient volumes dropped during the 2020 lockdown. Cleveland Clinic Indian River was not one of those hospitals, though at points, it did cut back on shifts, administrators said. Staffing shortages have been a major issue during COVID, and it's not known what effect the new federal vaccine mandate will have when it goes into effect later this fall.
Union figures showed a turnover rate of more than 25 percent last year, with 120 new nurses hired.