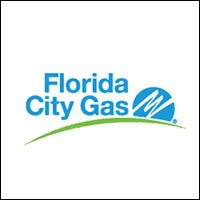 Natural gas may be coming soon to barrier island
STORY BY LISA ZAHNER (Week of September 23, 2021)

Florida City Gas has decided to move forward with a major expansion of natural gas service to the entire barrier island from Windsor to the 17th Street Bridge  over the next four years, but certain parts of 32963 may have gas available much sooner.
The Town of Indian River Shores and the City of Vero Beach have been approached by Florida City Gas, which is part of the Florida Power & Light company, about deploying temporary compressed natural gas (CNG) trailers to bring gas to residents while the main lines are under construction.
Florida City Gas did not respond to a request for a photograph of what the temporary CNG trailers might look like.
But Florida City Gas spokesperson Bianca Soriano told Vero Beach 32963 the company expected it would take a year for extension of its pipeline from the mainland to the barrier island, "and then the overall project build in the island will most likely take three years.
"Over the next several months and into next year, we will work with local elected officials and communities to support the safe installation of an 11.5-mile natural gas pipeline and four distribution points that will serve the entire island," she said.
So far, Orchid and Indian River County have not been contacted about potential service expansion, though multiple Vero Beach 32963 readers report attending a homeowner association meeting in the unincorporated north barrier island about Florida City Gas service coming to their neighborhood.
On July 8, Shores Town Manager Jim Harpring received an email from Florida City Gas Business Development Manager Forrest Smalley asking for a meeting.
"Florida City Gas (FCG) is working to bring natural gas service to the barrier island in Indian River County and the residents of Indian River Shores," the email said.  "The project has received approval from our senior management and we are preparing to move forward with construction.
 "Our construction plan call(s) for a temporary easement to locate compressed natural gas trailers so that we may begin serving the IR Shores residents well in advance of project completion. I would like to schedule some time with you to review the overall project, the benefits to the residents in your community and a potential easement location that is currently owned by the Town of Indian River Shores. Please contact me at your earliest convenience to schedule a meeting."
The two met on July 27, according to Harpring, but the meeting was very preliminary. No permits have been pulled or easements requested from the town yet.
"The county's Public Works Department has not been made aware of any plans by Florida City Gas to expand on the island," a county spokesperson said last week.
Orchid Town Clerk Cherry Stowe said the town has no records of anyone being contacted by Florida City Gas or Forrest Smalley about natural gas service.
Several Vero Beach officials are set to attend what Planning Director Jason Jeffries called a "pre-application meeting" with Florida City Gas on Oct. 4, prompted by a Sept. 14 email from Florida City Gas Director of Strategy and Business Development Marc Seagrave to City Manager Monte Falls about staging CNG equipment on the island within the Vero city limits.
"Per our recent phone conversation, you requested that I send you a note regarding Florida City Gas' request to work with the City around a temporary easement for CNG equipment and a permanent easement for a natural gas regulator station on your water plant property adjacent to the Riverside Theater," Seagrave said.
Regarding the site near Riverside Theatre, Jeffries sent Falls some details in preparation for the Oct. 4 meeting. "Riverside Park is zoned P-2. Utilities is a permitted use in the zoning district. The district requires any structures to be 25 feet from the right of way / property lines. Any improvements require a site plan approval. Once a site plan is approved, a temporary use could be approved for a limited time. I will need more information on the request to determine any other requirements," Jeffries said.
Though Seagrave said he could not make on-the-record comments about the project, Soriano issued a statement in response to questions from Vero Beach 32963.
"There will be federal, state and local permits required. The pipeline will be built in compliance with all federal, state and local regulations," she said.
Regarding the temporary CNG trailers, she said, "in order to begin serving end-users on the barrier island as soon as possible, Florida City Gas will seek permits to install local distribution mains while the intrastate pipeline is permitted and constructed. These local distribution mains will be supplied temporarily from strategically located compressed natural gas (CNG) trailers."
Confirming that no permits have been pulled for the project yet, Soriano said: "We will work with private landowners, the county, and local municipalities to arrange for temporary use of land for the purposes of parking and operating CNG supply trailers. However, we do not have approved locations at this time."