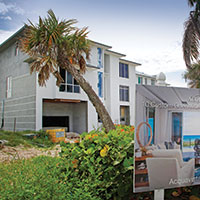 New home boom pushes south on the barrier island
STORY BY STEVEN M. THOMAS (Week of September 16, 2021)

A new-home building boom is ramping up on the barrier island south of the county line, where 76 homes are coming in four subdivisions, including 40 luxury oceanfront houses and condos.
Another 70 units are approved in a fifth subdivision now under contract. The incoming developer is slated to close on the purchase this month.
On top of that, land deals are happening up and down the surf-fringed stretch of A1A that extends south from Indian River County to the Fort Pierce Inlet, including one transaction that closed last week on a 31-acre piece of property zoned for 270 units.
Driving this burst of activity are the high prices and low inventory in 32963, which are causing island brokers and buyers to look south where prices are lower.
For years, Vero buyers have looked slightly askance at anything south of the county line, but local buyers are running out of options and out-of-town buyers, who are purchasing a majority of the new units, don't have the same reluctance.
Brokers say those buyers want new construction in a beautiful location on the ocean and don't care whether they are in Vero proper or North Hutchinson. In fact, being close to both Vero's seaside village and the charming downtown and waterfront in Fort Pierce is seen as a plus.
"It is unreal. I have never seen anything like it," says Robert Lowe, broker at Lowe's International Realty, of the current market on North Hutchinson Island where he has been selling real estate for four decades. "Absolutely unreal. Land prices are up by 38 percent over the past year."
Even with that jump, new homes, including luxury oceanfront properties, are "25 to 30 percent cheaper" than in 32963, according to Luke Webb at Premier Estate Properties.
"North Hutch is last bastion of quasi-affordable oceanfront on the barrier island," says Webb, who just listed six ultra-luxe oceanfront houses.
Those cool-looking contemporary 4-bedroom homes in the Aquavista development have 3-story atriums, elevators, 5-car garages, more than 5,000 square feet under air and 85 feet of ocean frontage. They are priced at $4.25 million.
"They would be a couple of million more in Vero – if they were available," says Webb. "I just looked with a client and there are only seven oceanfront single-family homes available in all of Vero at the moment – places someone could fly in and buy and move into right now."
Aquavista is a 10-home development where SION Homes, a South Florida builder that specializes in $15- to $30-million custom homes in Miami Beach, Key Biscayne, Coral Gables and similar locales, bought the last six lots and has a model home complete. The shells of the other five houses are up and the homes are nearing completion.
"Sion brings a style and level of finish we haven't seen here before," says Webb. "We think $4.25 million is a very attractive entry price, but we don't think that is the top of the market for these houses. The second one that sells will probably be $4.5 million. We think we are bringing these homes to market at just the right time."
Construction is also underway at Cristelle Cay, a 21-unit oceanfront condominium project where building foundations are going in and homes will be complete late next year.
Developed by David Gilman, who has been building successful condo projects for 50 years in South Florida, and listed with Dale Sorensen realtor Aggie Szymanska, Cristelle Cay will consist of two buildings with 2- and 3-bedroom condos ranging from 1,785 to 2,100 square feet, priced from $980,000 to $1,375,000.
Gilman bought the 3.3-acre property with 440 linear feet of ocean frontage for $4 million in 2018. He emphasizes the high quality and beautiful location of his project – on a wide, accreting beach, surrounded by preserve land that will never be built on – along with its affordability.
"The price point is a big part of the appeal," says Szymanska. "Anything in Vero is much higher. Anything down south is a lot more expensive.
"We started selling in April and we are almost half sold out. We put two units under contract in the past couple of weeks. I am pretty confident we will sell out before it is finished."
Szymanska says her buyers are coming from South Florida, the Northeast, Colorado and Vero. Some have bought their units sight unseen, based on her sales pitch and online information.
"They want the location. They want to be on the ocean. They want new construction, and they want to be in a small, boutique complex," not a high-rise packed with hundreds of neighbors.
Szymanska caught another glimpse of the hunger in the market this summer when she sold her own home in North Hutchinson for $3,995,000.
"It sold in two weeks, and we had three offers," she says. "The buyers are from Miami and plan to use it as a weekend getaway."
A short distance north of Cristelle Cay, the owner of the Avalon Beach development plans to start five spec homes priced between $1.1 million and $1.2 million this month, according to Linda Schlitt Gonzalez, broker at Coldwell Banker Paradise, who has the listings.
"Each home will have different architectural features and buyers can build custom homes as well," says Gonzalez. Besides the spec homes, there are 14 lots available, priced from $199,000 to $229,000.
Avalon Beach, a 16.8-acre development with 36 home sites, is located less than a mile south of the county line. The homes and lots for sale are on the river side of A1A but have beach access a few steps away.
North of Avalon, bumping right up against the county line, is Vero Beach Ocean Club, where developer and builder Fredric Bernstein finally has building permits in hand after a long approval process. He took over the 43.5-acre, 44-unit development in early 2020
"Now that we have the permits, we will begin building immediately," Bernstein told Vero Beach 32963 last week. "We had a lot of issues with the county because the project was first approved years ago with a different developer and it was a battle to get them all resolved.
"As of today, everything is completely squared away and we will be breaking ground on two model homes – a 2-story, 3,850-square-foot Key West, and a larger 3-story Sunset Key that is 4,400 square feet."
The ocean-to-river subdivision, which Bernstein says will resemble a "Key West-type village," will include 31 estate homes on the river side of A1A starting at $1.9 million and 13 oceanfront condo units starting at $2 million.
"We are seeing tremendous interest and have a number of presales," says Bernstein. "I've sold two condo penthouses, including one for $5 million to a California buyer.
"Our buyers are coming from all over – Palm Beach, Broward, Orlando, Connecticut, New York and California, along with some local buyers."
Compass agent Scott Reynolds is working with Bernstein to sell the Vero Beach Ocean Club properties.
Meanwhile, at the south end of the island, near where A1A makes a 90-degree bend and heads for the north causeway, a 9.4-acre, mixed-use parcel on the west side of A1A is under contract and scheduled to close in the next two weeks, according to Sally Daley, broker at Daley & Company, who represents the seller.
"He bought it in 2018 [for S2,990,000] with plans to develop it as The Village at North Hutchinson, a retail center with a condominium behind the commercial part," says Daley. "We saw it as creating a community center with lots of green space, an observation pier on the lagoon and high-end merchants – a great bagel place, a gourmet grocer, a familiar coffee shop.
"There is almost no retail down there now to support all those high-rise residences and we felt an open-air, Misner-style center would be transformational and have a rising tide effect on property values.
"For several reasons, my client decided not to go ahead with the development, but I think the buyer has something similar in mind."
"We will be putting in a mixed-use development," says Lowe, whose office is on the property and who represents the buyer. "It is permitted for 70 condo units and 17,000 feet of commercial. We're working right now to get a couple of preferred tenants to come in."
In more south island action, the 11.8-acre hotel and resort property on the east side of A1A where the road bends is under contract to a developer who is doing "due diligence," according to Lowe, who has the tract listed for $17 million.
He's also the broker on the 31-acre Pelican Bay property that is zoned for as many as 270 units but could also be used for a smaller number of single-family homes.
"We closed on it a week ago," Lowe told Vero Beach 32963 last week. "It is in the planning stages now. I also have a couple of other property deals in the works that I can't talk about yet. A lot going on.
"In all my years down here, I have never seen a market like this before."