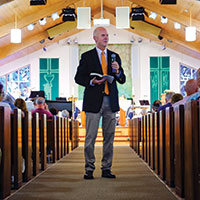 New pastor at Christ by the Sea United Methodist Church
STORY BY SAMANTHA ROHLFING BAITA (Week of June 23, 2022)
Photo: Christ by the Sea United Methodist Church Pastor Bruce T. Jones set to retire.

Transition and growth have been vital to Christ by the Sea United Methodist Church since its founding in 1965, and next week its beloved Pastor Bruce T. Jones will retire, and Rev. Michael Pestel will take his place.
The little church with the glorious windows, tucked beneath oaks and palms along A1A in Central Beach, has weathered unprecedented challenges since "Pastor Bruce," as he is known, succeeded Rev. Cliff Melvin in 2019.
"Soon after his arrival, we were hit by the world's virus crisis, and we knew God had sent us the perfect pastor to lead our way," said Director of Worship Arts Dr. Marcos Flores, who worked especially closely with Jones. 
"Looking back over the last three years, I'm amazed at how God made a way when there did not seem to be one," Jones said. "COVID-19 changed the shape of our worship experience and challenged us to think outside the box."
Jones lauded church staff and volunteers for their "dedication and flexibility" in creating "beautiful outdoor services that honored God, ministered to the needs of the congregation, and offered a visible and joyful witness to our neighbors.
"The outdoor Christmas Eve service of 2020 was especially lovely," he said.
Voicing what so many discovered during endless weeks of pandemic quarantine, Jones said "on a steep learning curve, we learned how to reach the community through live streaming and Zoom meetings.
"Finally, when we were able to reopen, we did so carefully and incrementally so as to minimize the possibility of virus infection," Jones said.
"Among his many gifts, his vast experience, creativity and ability to convey deep Christian thoughts in a very accessible way were instrumental in successfully leading Christ by the Sea into safe grounds in this challenging and unpredictable journey," Flores said.
Church member June Steinburg was among the many with fond memories.  "Pastor Bruce helped me get through my husband Al's interment," she said.  "He called me when I was sick with COVID as he had it at the same time.  He is truly the sun on a cloudy day."
"One thing that will always be etched in my heart," said Jo Parrish, "is when I was in the office talking about the loss of my two great-grandsons and he walked up and put his arms around me. 
"That hug meant so much and I knew he was suffering with me," she said. "He suffered with all the congregation as they grieved and shared our joy when we were happy."
Rev. Pestel, who is succeeding Jones, recently moved here with wife Katie and daughter Jordan after serving in  Clearwater, Orlando and most recently in Bradenton.
"Our family is thrilled to now live in Vero Beach and be part of the vibrant community of faith at Christ by the Sea United Methodist Church," he said.  Pestel will preach his first service in Vero on July 3.
When the church was founded 57 years ago, services were held in the homes of its 13 founding members. Land was purchased and building was begun the following year. The first pastor was Dr. Clifford Strang; Pestel will be the 11th.
As the years passed, the building expanded,  the congregation grew and the church became an active participant in the growing island community and beyond, with numerous outreach and youth  ministries, including a partnership with Beachland Elementary School, work with nursing homes, a 20-acre flower and vegetable garden for the poor, and efforts in Cuba, Costa Rica and Haiti.
Through Flores, who joined the staff in 2005, the church has gained a community-wide reputation for superior musical programs.
"Now, as I transition into retirement," Jones said with quiet confidence, "I leave the good people of Christ by the Sea with fond memories knowing they will be in good hands with their new pastor."