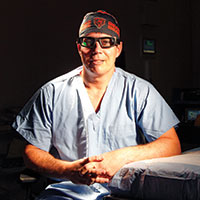 Orthopedist uses 'augmented reality' for shoulder replacements
STORY BY RAY MCNULTY (Week of May 12, 2022)
Photo: Orthopedic surgeon Dr. Carl DiLella wears augmented reality smart glasses in a Cleveland Clinic operating room.

A local orthopedist has become the first in Florida – and only the fourth in the United States – to perform total shoulder replacement surgery using a new innovative "augmented reality" system developed by Switzerland-based Medacta International.
Dr. Carl DiLella, who specializes in treating shoulder injuries, said he employed the company's cutting-edge NextAR technology to replace two patients' shoulders March 28 at Cleveland Clinic Indian River Hospital.
He again used the NextAR system, which made its global debut 10 months ago in Europe, to perform two additional shoulder-replacement surgeries in April. He said a fifth procedure is scheduled for May 16.
"For shoulder replacements, this is a very big technological advancement because the NextAR system provides the surgeon with live, real-time, intra-operative feedback on bone preparation, sizing, and the positioning of the implant," DiLella said.
"In the past, the surgeon was guided by his experience and knowledge of the patient's anatomy," he added. "But even with a CT scan to guide you, you'd have to use your hand and feel around. That's not an exact science. The procedure can still be successful, but there's a lot of guesswork.
"This system utilizes infrared cameras to improve the accuracy of positioning the implant, which is the basis for a successful outcome," he said.
The Next AR technology also relies on CT imaging to create a three-dimensional virtual model of the patient's shoulder anatomy for pre-operative planning. After a patient-specific, scan-based plan is devised, the images are then uploaded onto a "control unit," a portable monitor that can be rolled into position to aid the surgeon in the operating room.
The keys to the system are the Next-AR Smart Glasses, used in conjunction with the control unit, and infrared disposable sensors and cameras that allow the surgeon to see, so to speak, areas of the joint not otherwise visible.
During the operation, the surgeon uses the glasses and a control-unit monitor to visualize surgical actions – such as reaming the bone in preparation for placement of the baseplate, choosing the right size screws and installing the implant – in real time.
Looking through the glasses, the images are superimposed on the operation area, so the surgeon doesn't need to take his eyes off the patient to view the monitor.
According to Medacta's website: This technology "ensures that all adjustments are based on real-time data and enables the surgeon to remain focused on the patient for an optimal user experience" and "allows for exceptional precision and control, ultimately translating to enhanced efficiency in the operating room."
No robotics are involved, however.
DiLella said he trained on the system by performing a shoulder replacement on a cadaver, and that NextAR technicians were in the operating room to ensure the technology was functioning properly when he performed the first two surgeries here.
He said he was given early access to the NextAR technology because he's a paid consultant for Medacta, which also manufactures the implants he uses in shoulder-replacement surgeries.
Other companies are also developing augmented-reality surgery technology, he said.
DiLella said Medacta is allowing Cleveland Clinic Indian River Hospital to use the NextAR system for five cases on a trial basis, along with a one-time use of the smart glasses and infrared cameras at no charge.
He said the hospital's chief financial officer, Dr. Ralph Turner, and chief medical officer, Dr. David Peter, approved his use of the system.
"There was no special treatment for me as a consultant," DiLella said, referring to the free trial offered by Medacta.
DiLella said the new technology is especially helpful when confronted with more difficult cases, particularly patients with "significantly altered anatomy."
He cited as examples: patients who have undergone multiple rotator-cuff surgeries; or had shoulder operations that didn't heal properly; or need a shoulder replacement to be redone.
"No two patients' shoulders are exactly the same," DiLella said. "Some replacements don't last. If a replacement needs to be redone, the procedure becomes more complex. This technology helps re-dos."
He said the NextAR system doesn't shorten the surgery process, however, nor does it reduce the time needed to recover from the operation.
DiLella said patients who undergo shoulder-replacement surgery go home the same day with their arms in a sling, followed by two weeks of home nursing and at-home physical therapy.
They then go to outpatient physical therapy for two months. Patients can expect to be fully recovered in six months.
DiLella, who has been practicing in Vero Beach since 2015, said the number of total shoulder replacement surgeries is on the rise locally as well as nationally. Most patients are in the 60s through 80s and suffering from advanced arthritis and/or a non-functioning rotator cuff.
"People in that age group are more active and participating in sports, so we're seeing more wear-and-tear injuries," he said. "There are also some cases of people who fell and suffered traumatic injuries, but we see mostly patients with degenerative conditions.
"Repairing an injured shoulder isn't always the best option," he added. "Sometimes, you need a replacement."
DiLella said fully recovered shoulder-replacement patients can expect to be able to play golf and pickleball, even go bowling, but sports that require an overhead motion – such as tennis – can be challenging if the injury was to the dominant arm.
"The serving motion might be a problem," he said.