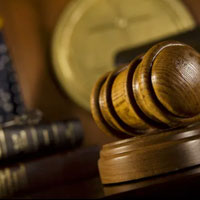 Two island wealth management execs in cocaine bust
STORY BY RAY MCNULTY (Week of May 12, 2022)

Two senior vice presidents in a Vero island office of the global Raymond James financial services firm were arrested on felony cocaine-possession charges stemming from a traffic stop in their South County neighborhood in the wee hours of May 1.
M. Paul Massey, 47, and William Romans, 46, managed the Massey-Romans Wealth Management Team of Raymond James, with an office on Beachland Boulevard.
The team's website was removed without explanation last week, and Raymond James headquarters in St. Petersburg confirmed via email Monday that Massey and Romans are "no longer employed" by the company.
"We are committed to our presence in Vero Beach and Stuart," the email stated, "and operations continue normally."
A woman who answered the team's phone Monday morning said the office was open, but no one there would comment on the situation.
Following their arrest, Massey and Romans were booked into the Indian River County Jail, where they spent several hours before each posted a $4,000 bond and was released.
Cocaine possession is a third-degree felony in Florida. If convicted, Massey and Romans each could be sentenced to up to five years in prison and fined $5,000. Each of them also faces a misdemeanor charge of possession of drug paraphernalia.
Local criminal defense attorney Andrew Metcalf said he was "preliminarily" representing Massey and Romans last week, but he had not yet notified the court and didn't know if he could continue to serve as legal counsel for both men.
Their arraignment is scheduled for next month.
"I'll review the case and, if there are any conflicts, we can bring in another lawyer," Metcalf said. "At this point, though, I plan to enter pleas of 'not guilty' and begin preparing a defense. I'm eager to see what the prosecutor puts forth in discovery."
According to Sheriff's Office arrest reports, Massey and Romans were passengers in a pickup truck driven by a friend, Christopher Lindsey, who was charged at the scene with DUI and felony cocaine possession.
A second felony charge – introducing contraband into a detention facility – was added at the jail, where corrections deputies conducted a routine search and discovered in Lindsey's pocket a "small, clear bag of a white powdery substance and black straw with white powder residue," the report states.
Sheriff's Deputy Kevin Peach, who arrived on the scene shortly after Sgt. Chris Lester had stopped the truck, wrote in his report that he warned Lindsey in advance it was illegal to bring contraband into the jail, and that Lindsey said, "I have nothing else on me."
Lindsay, 50, was released from the jail after posting $8,000. Metcalf said he was not representing the driver.
Lester's report states that he initiated the traffic stop at about 2:30 a.m., after seeing Lindsey's truck turn east onto 5th Street Southwest from a driveway near 43rd Avenue.
"The truck failed to maintain its lane," Lester wrote, "crossing the outside lane marker and touching the grass at one point."
The truck turned north onto 33rd Avenue Southwest – the Miraflores development – and stopped at Massey's home. Lester wrote that "there was a lot of movement from within" as he approached the truck, where he found Massey in the front passenger seat and Romans in the backseat.
A search of the truck produced a "pill bottle with Massey's name on it," Lester wrote, adding that the bottle was found within Massey's reach, behind the center console and at Romans' feet.
"The bottle contained a clear plastic baggy with a white powdery substance I believed to be cocaine," Lester continued.
Lester wrote that he also found a "white powdery substance" on the front passenger seat, "in between where Massey's legs were positioned," and that it appeared to have been "freshly smeared" – because there was "no other white powder on the seat."
The substances in the baggy and on the seat "field-tested" positive for cocaine, Lester's report states, and that the baggy contained "approximately 11 grams."
In addition, deputies found two open alcoholic-beverage containers in the truck.
Lester reported that a search of Massey produced a rolled-up dollar bill with a residue of white powder on the inside. The sergeant believed the powder was cocaine, but the amount was too small to test.
The report states Lester also searched Romans and found in the suspect's pocket a "clear plastic baggy" containing a white powdery substance that field-tested positive for cocaine, but the report didn't specify the amount.
Romans' pocket also contained a two-inch straw with a white powdery substance inside it, the report states, adding that there was not enough powder in the straw to test.
Both the dollar bill found on Massey and straw found on Romans were "common with powder cocaine use and used to ingest it," Lester wrote.
Peach reported that when he arrived on the scene to provide backup, Lester told him Lindsey was intoxicated and had refused a field sobriety test. The deputy then noticed that Lindsey was "unable to maintain his balance" as he walked from the driver's side of his truck to the front of Lester's patrol car.
Peach wrote that he asked Lindsey how much alcohol he had consumed, "and he stated he had about seven Bud Lights while at a friend's house" and was "trying to get home."
While speaking with the suspect, Peach stated in his report, he noticed that Lindsey's eyes were "red and glossy" and that an "odor of alcoholic beverage was emanating from his breath."
Lindsey again refused a field sobriety test, he added, and was placed under arrest for suspicion of DUI.
Peach stated he searched Lindsey's wallet to remove the suspect's driver's license and discovered a clear plastic bag that contained a white powdery substance that later field-tested positive for cocaine.
The weight of the package, the report states, was slightly more than half a gram.
After charging him with DUI and cocaine possession, Peach wrote that he transported Lindsey to jail, but he needed to roll down both rear windows in his patrol car because the alcohol odor was "so intense."
Lindsey twice refused to take a breathalyzer test at the jail, Peach reported.
According to the biographies on their company website – before it was removed – Massey and Romans both joined Raymond James in 1998.
Massey, a University of Florida graduate who earned an MBA from Rollins College, is a certified financial planner and a member of the Estate Planning Council of Indian River County.
His father, Edwin, was president of Indian River State College for more than 31 years before retiring in August 2020.
Romans grew up in Titusville before attending Birmingham Southern College, where played baseball and was inducted into the school's Sports Hall of Fame in 2002. He spent one season in the minor leagues as a third baseman in the Philadelphia Phillies organization before joining Raymond James as a financial advisor.
He has a bachelor's degree in economics.
Both Massey and Romans are married with children, and they've coached and sponsored Little League baseball teams, locally.