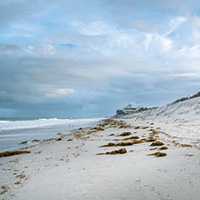 Dune replenishment imminent for north island beaches
STORY BY CASEY STAVENHAGEN (Week of November 16, 2023)

In the next few weeks, the county expects to begin trucking in approximately 275,000 cubic yards of beach-compatible sand and over 725,000 native salt-tolerant plants to shore up the dunes behind island beaches stretching from just north of John's Island to just north of Windsor.
The county has not yet nailed down its sand source for the project, but has identified several options, said county spokesperson Kathy Copeland.
"The contractor is aware of the timelines identified for the work to be completed within and is confident in their abilities to complete the project within the agreed upon timeframe," Copeland told Vero Beach 32963.
The project, which will cost around $13 million – $2 million less than county originally estimated – will affect Treasure Shores, Golden Sands, Wabasso, Seagrape Trail and Turtle Trail beach parks, but the county has not specified any closure dates yet.  The targeted completion date is April 2024.
Indian River County will be responsible for $3.5 million of the cost as it has received $9.5 million in reimbursable grants from FEMA, the Florida Department of Environmental Protection and the Florida Division of Emergency Management.
To bolster the sand fill, the contractor, Dickerson Florida, Inc., will plant mostly sea oats, accompanied by panic-grass, railroad vine and beach elder.
"The plants are very instrumental in a mitigating effort with their root structure to help protect the dune system once it is restored," said Eric Charest, Indian River County's interim natural resources director.
Due to some scattered late-season sea turtle nests, the project will begin in the north and work south. Charest said any existing sea turtle nests, ideally, will have naturally hatched out by the time the project gets to them.
"We are outside of the bulk of sea turtle nesting season, and we are working with coordinated efforts with [Florida Fish and Wildlife Conservation Commissions, or FWCC] on when we can start a project," Charest said.
"We do have a concern of late-season nesting sea turtles. There are nests that exist out there. We've worked with FWC and have been organizing with them since late September on giving us a clear beach to work on."
As for the shoreline immediately to the south of this area extending from John's Island to the Tracking Station Beach Park behind the CVS Pharmacy, county officials still hold out hope that a second replenishment project might be possible before turtle nesting closes the construction window in the spring.
The county estimates that project would cost around $5.6 million, with half of the total covered by FDEP.