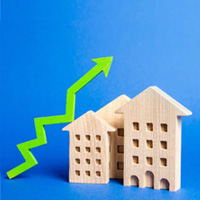 Higher mortgage rates having relatively little impact on island housing market
STORY BY STEVEN M. THOMAS (Week of November 16, 2023)

When home mortgage interest rates hit 8 percent at the end of October, the reaction by many housing experts and economists wasn't pretty.
Round numbers get people's attention.  The rate hadn't been that high since 2000, and there were dire predictions that the market would be frozen by a lack of demand, as affordability hit a 40-year low.
There were worries, too, of a decrease in inventory as homeowners with covid-era, 3-percent mortgage rates burrowed in, opting not to sell when they would have to repurchase a new home with a mortgage at 8 percent.
There was much less concern on the 32963 island, however, where several brokers told Vero Beach 32963 that higher rates haven't had a major impact on high-end sales, even as rates climbed steeply much of the year from a low of 6.09 percent in February to the late October high.
"Interest rates at 8 percent don't impact our business that much," said Cindy O'Dare, broker associate and leader of the O'Dare Boga Dobson Group at ONE Sotheby's International Realty. "We almost always have cash buyers and demand has not shrunk."
"I can tell you, as far as our business goes, it's not particularly impactful," said Moorings Realty Sales Co. broker Marsha Sherry. "We have very few people getting mortgages. Cash is king more than ever."
At the same time, brokers said the rapid run-up in mortgage interest rates has affected the middle segment of the island market.
"The higher rates do impact the market as whole," said O'Dare. "Take the typical Central Beach buyer spending between $1 million and $2 million, for instance. I see a lot more of them getting mortgages now because [with the pandemic run-up in prices] they don't have enough cash for an all-cash deal."
"Higher mortgage rates affect the island market a little bit directly and a little bit indirectly," said Scott Reynolds, leader of the Reynolds Team at Compass. "A portion of sales, even on the island, are financed – maybe 25 or 30 percent. So rates have a direct impact on what those buyers can afford. At the same time, having fewer buyers in the market amounts to a reduction in demand that can have an indirect impact on sellers."
Despite challenges posed by rate increases, island home prices continue to creep up and Reynolds said he remains "super positive on the island market [and] ... expects a nice busy season," a sentiment echoed by other brokers.
"The island market is insulated from national real estate trends to an extent," said Sherry. "A lot of what is happening nationally is irrelevant here because this is such a special place."
"We expect a really good season," said O'Dare's business partner, Richard Boga.
That expectation is founded in part, ironically, on what is happening with interest rates, which unlike mortgage rates, have already fallen half a point from their October high. Top analysts expect rates to fall further in the coming year, believing the Fed will cut its benchmark rate several times in 2024.
UBS Group AG and Morgan Stanley both "anticipate deep interest-rate cuts in 2024 as inflation cools and the economy stalls," according to Bloomberg.
UBS expects the federal funds rate, now 5.33 percent, to be cut in half by the end of the year. Other analysts expect fewer and less aggressive cuts, but 94 percent of analysts surveyed by Bloomberg expect the federal funds rate to go down to some degree in 2024, with mortgage interest rates following.
"Eight percent rates are not going to stay," said O'Dare. "When they drop back to 6 percent, I say watch out! There will be a flurry of homebuying."
"We have a good market on the island now but it will be out of control if we get those lower rates," said Reynolds.
When rates hit 6 percent in 2022 for the first time in 15 years, there was significant buyer shock and broker angst, because 6 percent was double the 3 percent rates of just a year before.
Now, though, there is a sense that 8 percent has inoculated at least some buyers, who will see 7 percent as a big improvement and 6 percent as a golden ticket if they need a mortgage to close.