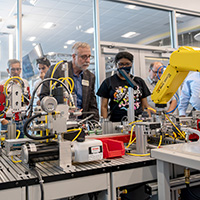 Island residents invest generously in skilled trades education
STORY BY LISA ZAHNER (Week of November 9, 2023)

The island's largely retired, white-collar population places a high demand on the rest of the community for all kinds of qualified skilled trades workers, so when Indian River State College needed capital to build a state-of-the-art workforce training facility, residents like John's Island Real Estate President Bob Gibb recognized the value of practical, marketable education.
"I'd been really concerned that people are taking out these crazy student loans going to college to get liberal arts degrees and then not having a job," Gibb said. "And we're so desperately in need of subcontractors, and whether it's in automotive or air-conditioning or all the marine work that needs to be done.
"Those ought to be areas that they're bringing in these people who are bright enough to start a business and give them an entrepreneurial education, give them a way to get certified in a profession," he said. "We are going to need that group of people in the community and in the economy in the next few years."
Gibb, along with his wife Wheatie and daughter Rennie, invested big in the cause, and now have a wing of the college's new 60,000-square-foot Eastman Advanced Workforce Complex that bears their names in appreciation for their $400,000 contribution.
While the east wing of the building was dedicated to the Gibb family, the west wing is named after Riomar resident Marilyn McConnell and her late husband John.
After John McConnell died in a tragic accident three years ago, Marilyn began working with IRSC to leave a meaningful legacy in the Advanced Workforce Complex.
"This is something John would have loved," Marilyn McConnell said. "We are owners of a manufacturing company and know how important it is to train skilled workers."
In Kansas and Missouri where the McConnell laboratory equipment plants are located, she said, "it's more of a generational thing. We have wonderful skilled workers who are starting to retire, so it's such a great blessing when we have the younger generation coming in."
The complex and the portions named for major donors were dedicated on Nov. 1 with a ribbon-cutting ceremony attended by nearly 200 people, plus speeches and an interactive tour of the facility on the southeast corner of the Fort Pierce main campus, with students and instructors on-hand to demonstrate the equipment and answer questions.
The facility will support a Smart Automation and Robotics Lab, an Industrial Maintenance and Automation Lab, a Heating, Ventilation, Air Conditioning and Refrigeration Lab, a Welding and Metal Joining Lab and an Automotive Mechanical Lab.
The Chip Woody Legacy HVAC Lab was donated by a long-time Vero Beach family that understands the local business climate and the need for skilled workers.
"Chip Woody, the late patriarch of the Woody family and former owner of Smith Services Heating and Air Conditioning, embodied a lifelong commitment to both learning and professional excellence," Kate Beckwith Woody said, adding that she, Logan Woody, Ridgely Beckwith, Porter Gaier, and Mason Woody were excited to officially unveil the lab last week.
"The Chip Woody Legacy HVAC Lab not only perpetuates the Woody family's values but also underscores the enduring importance of higher education," Beckwith Woody said.
Orchid Island Golf and Beach Club residents invested, too, in the new complex at the Fort Pierce campus through their Orchid Empowers philanthropic organization, and in recognition of their $100,000 donation, IRSC named the building's courtyard in their honor.
The Vero Beach area is growing, especially since the pandemic and other current events make a small, coastal Florida town look vastly more attractive than big-city life. But skilled tradespeople moving to Indian River County are far outnumbered by all the people who need their services and expertise.
"We are unprepared, and I just feel that it's money well spent to finance this because I don't want this to be a drop-out vocational program. I want it to come from the high end," Gibb said.
Gibb hopes his donation, and those of Marilyn McConnell, the Woody family and the members of the Orchid Island group, will lead more island residents to take notice, investigate IRSC's workforce training facility, and support it generously.
"My purpose is to try to have 32963 people understand what the program is and what this opportunity is. I think there could be a lot of money and support out of this area. It would be a real springboard for that if we could get 32963 residents educated about it, John's Island residents specifically."
Indian River County gold-level donors include The Carol and Tom Corr Family Foundation, Mrs. Barbara Hefflebower (the Diesel Lab), The Gilbert Family of Companies (the Automotive Lab), the Estate of Marilyn C. Link, and Donald and Linda Proctor, who gave between $100,000 and $499,999.
The whole educational complex was named after its biggest benefactor, St. Lucie County inventor, engineer and entrepreneur Richard H. Eastman, who donated $2 million toward the building, classrooms and equipment.
Long known as a resource for teacher training, healthcare training and continuing education, Indian River State College already offered college-credit and Associates' degree programs in various technical areas, but the new complex – which is already in use this fall term – allows it to expand the program options and enroll more students to build a stronger local workforce.
The new complex supports 1,500 students, including 317 who study Air Conditioning/Heating/Refrigeration Technology, 268 who study Automotive Technology and 206 who study Welding Technology. The most popular program with 688 students is Electronics Engineering Technology.
"They are really driving it to make it bigger and better," Gibb said.
So how did so many island residents become champions of technical training at a college in Fort Pierce? The Indian River State College Foundation Board of Trustees works hard to educate locals about the college's mission and to show them firsthand what can be done with a little ingenuity – and support from the community.
Indian River State College Foundation Board Chair and longtime Vero Beach resident Bill Marine approached Gibb and many others to share his passion about the college, and to encourage them to create a legacy through local higher education. "I get very enthusiastic about this and Bill Marine is the one who stirred up that enthusiasm. He drew my attention to it," Gibb said.
Marine, who has been friends with Gibb since their kids attended St. Edward's School together 20-some years ago, joined the IRSC Foundation Board three years ago and has since been re-paying an old debt from the 1970s.
A self-proclaimed lackluster student with learning disabilities and no college prospects after high school, Marine owes his success in business to then-Indian River Community College. Encouraged and mentored by his guidance counselor at Vero Beach High School, Marine signed up for remedial math and English courses, while working driving a tractor in the citrus groves.
"I basically took high school over again," Marine said. "Then I went back the next year and I took Biology, English and the other classes you typically take as a freshman.
"I wanted to get into citrus," Marine said. He took the foundation he gained at then-IRCC to Florida Southern College, where he graduated with a Bachelor's degree in Citrus Business and won academic honors.
"I owe everything to the college for giving me the opportunity to further my education," Marine said.
So when Gibb came to him complaining that John's Island residents were having trouble finding skilled workers, Marine seized the opportunity and showed Gibb what IRSC was striving to accomplish at the main Fort Pierce campus where it serves students from four counties.
"It's an amazing campus. I'd been out to our local campus but that one down there in Fort Pierce, they're going gangbusters," Gibb said. "Dr. Timothy Moore really understands what the purpose of the school is, so that people can go out and be self-sufficient."
Marine said the next big need at the college, for donors motivated to give, is the Promise Program, which helps students with financial need get two years of education free at Indian River State College.
It's one way that the college ensures that 90 percent of its students graduate with zero student loans so they can go earn a four-year degree, or start a business or pursue a trade apprenticeship without being saddled with debt for their AA, AS or applied technology degree.