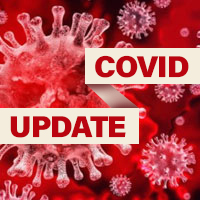 Retroactive stats show decline in new Covid cases here
STORY BY LISA ZAHNER (Week of November 16, 2023)

Since the Florida Department of Health was required to resume publishing detailed, retroactive COVID-19 statistics last month as part of a legal settlement, we once again have timely Indian River County case data showing that from September to October, positive Covid cases declined locally from about 17 per day to 6 per day.
Data through Nov. 3 reflects the lowest Covid infection rate in Indian River County since June. The late summer saw a bump in cases, rising steadily from an average of 5.4 per day in June to 16 per day in July, topping out at an average of 20 new positive cases per day in August.
Overall so far in 2023, 3,711 people have reported testing positive for the SARS-CoV-2 virus – down 79 percent from the 17,651 people who tested positive in 2022.
During the height of the pandemic, the two age groups which accounted for the greatest percentage of Indian River County's positive cases were the 20- to 29-year-olds and the 50- to 65-year-olds. But now, Vero's oldest residents are more likely to test positive for Covid this fall than people between the ages of 20 and 65.
Of the 205 people who reported testing positive in October, 111 were aged 65 and older, making up 54 percent of the positive tests. According to the U.S. Census Bureau, 35.2 percent of Indian River County residents are aged 65 and older.
When people aged 50 to 64 are factored into the Covid testing data, older adults aged 50-plus made-up 72 percent of the Indian River County residents who tested positive for Covid in October. People over 50 are more likely to have at least one underlying, chronic condition like high blood pressure or diabetes which increases their risk of serious Covid illness.
Since the newly formulated Moderna, Pfizer and Novavax vaccine formulas were approved and available, a total of 7,949 Indian River County residents have received the updated Covid booster shot, with 6,389 or 80 percent of those locals being aged 65 and older. That means roughly 10.6 percent of Indian River County senior citizens aged 65-plus have received one of the reformulated Covid boosters designed to protect against emerging Omicron subvariants.
The new Moderna, Pfizer-BioNTech and Novavax Covid shots approved for 2023-24 appear to be the last vaccines eligible to be released on the marketplace via an Emergency Use Authorization from the U.S. Food and Drug Administration, as the FDA on Oct. 19 published guidance saying all subsequent vaccine products for the prevention of COVID-19 disease must meet all the criteria for regular FDA vaccine approval. That means robust preclinical trials on animals, and multi-stage clinical trials involving a pool of trial subjects of a variety of ages with a wide array of pre-existing conditions to ensure both safety and efficacy of the vaccine in the broader population of Americans.
"The process for issuing an Emergency Use Authorization is different than an FDA approval. Under an EUA, the FDA authorizes uses of medical products based on a reasonable belief that the product may be effective based on the best evidence available at the time, without waiting for all the information that would be needed for an FDA approval," the FDA statement said. "When evaluating an EUA, the FDA carefully balances the potential risks and benefits of the products based on the information currently available."
Nearly three years after the first EUA was granted in December 2020, the shift requiring regular approval follows the publication of a growing number of international studies showing both short-term injuries and long-term chronic conditions connected to, if not directly caused by, one or more doses of Covid vaccine.
Existing EUAs issued during the pandemic are set to be phased out one year after the end of the Federal Health Emergency, or in May 2024, if not extended. Exceptions could be made by regulators for updated Covid vaccines if the nation experienced something akin to the devastating Delta or Omicron surges of 2021 and 2022, respectively.