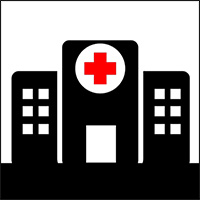 Safety grades: The 3 area hospitals all awarded a 'B'
STORY BY LISA ZAHNER (Week of November 9, 2023)

The Leapfrog twice-yearly hospital safety grades were released on Monday and none of the three local hospitals most frequently used by island residents scored the highest "A" ranking this time.
Both Cleveland Clinic Indian River Hospital in Vero Beach and HCA Florida Lawnwood Hospital in Fort Pierce – Vero's nearest Level One Trauma Center where most serious traffic crash victims are taken – slipped slightly from an overall "A" grade this spring to a "B" grade this fall. Steward Sebastian River Medical Center also earned a "B" grade, the same as in the spring.
Cleveland Clinic Indian River's strengths in the fall report included measures the hospital takes to prevent harmful events, including patient falls, broken hips and air bubbles in the blood. Cleveland Clinic also scored well in preventing infections and sepsis after surgery and urinary tract infections in hospitalized patients.
The staff still struggles a bit with communication with doctors and communication with patients about medications and discharge instructions, according to Leapfrog. In the spring, Cleveland Clinic got marked down for a lack of hand-washing among hospital personnel, and unfortunately that was an area of weakness again in the fall ratings, with the hospital scoring a 40 out of a possible 100 points, as compared to the average hospital score of 79.
Cleveland Clinic spokesperson Arlene Allen-Mitchell gave this statement in response to the fall Leapfrog grades, "Cleveland Clinic Florida is committed to providing high quality care in all of our hospitals and outpatient clinics. We continuously measure and identify areas for potential improvement and work to implement solutions. Our caregivers have continually worked to provide a safe environment for patients through safety checklists performed before every procedure, daily huddles that address safety issues immediately, and a system-wide focus that empowers every caregiver to speak up when safety issues arise."
Mitchell said Cleveland Clinic is committed to transparency. "Our outcomes are readily available online, giving patients access to comprehensive data on procedures, volumes, mortality, complications and innovations. Regardless of any rankings, Cleveland Clinic is committed to providing the best care anywhere," she said. 
Steward Sebastian River Medical Center's strengths in the ratings included preventing blood infections, urinary tract infections and infections or sepsis after surgery, a score of 100 out of 100 for handwashing, and good cooperation among staff to prevent errors.
Sebastian fell short on patient communication with doctors, nurses and hospital staff, as well as communication about medications and discharge instructions. The Steward hospital also scored poorly on the number of C. Diff infections, noting twice the infection rate of the average-scoring hospital. Sebastian did not report how many MRSA infections it experienced over the past six months, so that could not be rated.
Both hospitals scored high marks for having computerized drug-ordering systems for doctors to prescribe medications. Both Cleveland Clinic Indian River and Sebastian River Medical Center scored top marks for having specially trained doctors caring for critical patients in the Intensive Care Unit.
Indian River County's two hospitals fared better than others in neighboring Brevard and St. Lucie counties, with Holmes Regional Medical Center maintaining its mediocre "C" rating and Cleveland Clinic Tradition Hospital also scoring a "C" again for the fall. The nearest hospital to garner the coveted "A" rating was HCA Florida St. Lucie Hospital.
The set of grades released on Monday represent the first nationwide safety assessment since the COVID-19 Federal Health Emergency ended on May 11. Hospitals across the country and locally saw an unexplained increase in Methicillin-resistant Staphylococcus aureus (MRSA), sometimes called "flesh-eating bacteria" infections during the pandemic era.
"Now that we have pre- and post-pandemic data for patient safety measures, we are encouraged by the improvement in infections and applaud hospitals for reversing the disturbing infection spike we saw during the pandemic," said Leah Binder, president and CEO of The Leapfrog Group.
Nationally, the Leapfrog Group, which rates hospitals on a variety of infection control and other safety measures, said nearly 30 percent of hospitals earned an "A," 24 percent earned a "B," 39 percent earned a "C," 7 percent earned a "D," and less than 1 percent earned an "F" in the fall cycle of grades.
Utah is the state with the highest percentage of "A" hospitals in the country this fall. After Utah, the top ten states for "A" hospitals are: Virginia, North Carolina, Pennsylvania, South Carolina, Connecticut, Montana, Tennessee, Florida and Texas. States with the least favorable performance are Vermont, Wyoming, Delaware, Washington, D.C., and North Dakota, where no hospitals earned an "A."