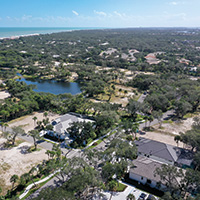 Seaglass, new subdivision with 'Old Florida' ambiance, set for holiday unveiling
STORY BY STEVEN M. THOMAS (Week of November 2, 2023)

As Vero heads into the winter high season, the busiest time of the year for homebuying, GHO Homes is in an enviable position.
The company has two luxury home subdivisions with new model homes complete on the island, and a third high-end development in Grand Harbor, all ready for house-hunting snowbirds.
And the newest of the island subdivisions – Seaglass across from the Disney Resort, an intimate, 72-home development that GHO president Bill Handler justifiably says he "will be proud of forever" – is nearly ready for a planned spectacular holiday unveiling.
Seaglass, The Strand in Indian River Shores, and The Reserve at Grand Harbor offer between them about 160 homebuying opportunities, including ready-to-go homes and lots where houses can be built.
This abundance of big, beautiful, finely crafted houses – priced from about $1.3 million to $2.4 million – stands out in an island market that is woefully short of resale inventory and even leaner when it comes to new construction.
Seaglass demonstrates Handler's commitment to his customers and their quality of life. The 26-acre parcel is being built on what originally was part of Disney's 70-acre Florida Beach Resort planned development, which was approved in the 1980s but never completed.
Anyone who thinks of big builders as merely hardnosed businessmen would be surprised to hear Handler talk about the project, where he has gone to great trouble and expense to save hundreds of mature oak trees and preserve an "Old Florida" ambiance, with winding streets, native hammocks, boardwalks and other features.
When Handler bought it for $6.9 million in 2019, it was a densely grown tract as natural as anything left on the island.
"You couldn't walk it," Handler says. "The tree survey cost a fortune and was a real challenge. Three guys went to the hospital, two with heat exhaustion and one with a chainsaw injury."
Once the property was partially cleared, Handler, his civil engineer and other members of his team walked the tract and made on-the-spot decisions to move roads from where they were shown on the preliminary site plan in order to save more trees.
"The roads split in a bunch of places to go around stands of oak trees," Handler said. "Many builders would have scraped it and started from scratch and put in a lot more units, but we see the value in preserving as much as we can of the native landscape in this location. If we can't build communities with character, what are we even doing?"
The result of his efforts is a parklike environment with boardwalks and benches set in shady groves, where many of the trees wear name tags such as Lou, Peyton and Freddy that were attached by Handler's team to emphasize their character and value and encourage construction crews to protect them.
After the roads were in and lots planned, Handler realized there were still several dozen oaks that would be a problem for construction. Rather than cut them down, he brought in a tree relocation specialist.
"One was a tree we called Cookie Monster," Handler says. "It is insanely big and broad, 60 or 70 feet across, very hard to move. But we decided we weren't going to stop what we started, so earlier this year we did root pruning, brought in cranes, the whole process, and moved about 40 trees. And you can't tell which ones they are. The guy who did it is an expert and they are all placed perfectly."
Handler says he got heavy pushback from associates over his plan to build a subdivision like an eco-resort. "Everyone told me I was crazy," he says.
While feeling the pressure and sweating the cost of preserving the long-lived oak trees on the site, Handler got decisive support from his wife, Melissa.
"I have to give her credit," Handler says. "She is a tree person. Nature is everything to her – what it does for your body and your mind. All those things are huge for her. When you take that influence from the person you love the most, it outweighs the worry of coming to work trying to do something special that I could easily screw up."
GHO will debut Seaglass with a series of holiday events, decorating the entire subdivision with lights on the preserved oak trees, "tons of Christmas displays and holiday decorations inside the model homes," according to GHO marketing director Renee Maclees.
"Elite Landscape Lighting is doing the lights and they say it will be the biggest display in Vero," says Maclees, bigger than the awesome annual lightshow at Tara Plantation. People will be able to drive through on the subdivision's winding roads on weekend nights from Dec. 8 to Dec. 24, cueing up selected Christmas music at the displays via QR codes.
"We will have a series of special events that will benefit three charities, including the Humane Society and a Builders Association program that provides scholarships to young people who want to get into the building trades," Maclees adds. "Bill wanted to do something big for the community and also highlight what we have done at Seaglass, saving all those old growth oaks."
The special events will kick off with a gala evening for island realtors and VIPs on Nov. 30, when the Christmas lights and displays will be seen by the public for the first time.
Single-family homes and attached villas are available at Seaglass, where model homes have just been completed and 10 houses have been sold. Three-bedroom, three-bath, two-car garage, 2,254-square-foot attached villas start at $1,285,000. Pre-construction prices for single-family homes begin at $1,675,990 and go up to $1,956,990 for a three-bedroom, three-and-a-half-bath, three-car garage, 2,775-square-foot single-family home on a lakefront lot.
Handler says the first residents will be moving into their Seaglass homes next fall and that it will be built out "in a couple of years."
"You don't get opportunities like this very often," he said. "You can't create the kind of character that we are preserving here. From the treescape to the topography and angles of the lots, pretty much every lot in Seaglass is unique. Buyers will have a special sense of place from the day they move into their homes."
The Strand, GHO's other island subdivision, languished for many years and saw five developers come and go without much being accomplished until Handler bought the property from Lennar in June 2021. Since then, dozens of large luxury homes have been purchased in the development.
Currently, there are only about 10 lots still available, along with a number of move-in ready inventory homes, which Handler, who is not free with superlatives, calls "stunning."
Prices for three-bedroom, three-and-a-half bath, three-car garage, approximately 3,000-square-foot inventory homes in the Indian River Shores development start at $2,202,000 and go up to $2,377,000, almost $1 million more than the price two years ago.
The homes at The Strand, like those at Seaglass, are loaded with contemporary luxury finishes and features. They also are equipped with the most up-to-date systems, which Handler says are distinctly more efficient than systems in homes built pre-pandemic, just four or five years ago. Multiple models are available.
The reserve at the north end of Grand Harbor is Handler's most recent major land purchase, which consists of 36 plated, build-ready lots and a meadow with white flowers and pine trees that is plat ready with utilities installed.
He purchased the gold-plated property for $17 million in September and plans to build 78 homes there similar to the homes in The Strand.
"With that purchase Bill gained control of all the remaining luxury building lots in Grand Harbor," says ONE Sotheby's broker associate Michael Thorpe, who brokered the land to Handler. "It was a real coup."
Thorpe said Handler pursued the land for "about a year and a half," bargaining with legacy developer GH Vero Beach Development, an instrument of Icahn Enterprises, which owned Grand Harbor prior to a takeover of the community by residents three years ago.
"We are selling homes there now," says Handler. "We are working closely with residents already living there and a number of people have come over to the Strand to see the models we will be building."