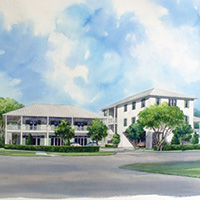 'The Tides restaurant to relocate in 2025 to South Beach
STORY BY STEVEN M. THOMAS (Week of November 9, 2023)

The Tides, one of the island's favorite fine-dining restaurants, will move to a new mixed-use development at 1410 A1A across from Johnny D's when the restaurant/retail/office project is complete in 2025.
"We are moving," said The Tides chef and owner, Leanne Kelleher, who has already drawn up the design for her new restaurant, working with project developer Anthony DeChellis, a Moorings resident and financier whose family has a long history in the restaurant business in Vero Beach.
"We will have a nice big kitchen down there, bigger than our current kitchen, which will allow us to do more," Kelleher told Vero Beach 32963 on Sunday. "I think the dining room space will be a little larger, too, and we will have more outdoor seating."
DeChellis, who got site plan approval for his approximately 13,500-square-foot mixed-use project from the city in October, owns the old frame building where The Tides is now, along with the rest of the property that fronts on Cardinal Drive between Camelia and Bougainvillea. He and his team are working on plans to redevelop the property.
"He is taking this building down," said Kelleher of the 73-year-old structure where The Tides has long served memorable meals to island residents. "I don't want to be out of business for year or two while he builds a new building, so we will reopen down there."
Both Kelleher and DeChellis say there is a tentative plan for Kelleher to continue operating her new South Beach location while also reopening on Cardinal Drive.
"That is my intention, but who knows what will happen between now and then," Kelleher said. "I certainly am not opposed to the idea."
The site plan approved by the city and a rendering provided by DeChellis show a handsome, West Indies-style complex on a 1.15-acre lot at 1410 A1A where Charley Brown's restaurant used to stand. The property is bordered by Turtle Cove Lane on the north and by a 7-Eleven on the south. There will be two 2-story buildings separated by a covered courtyard and one 3-story section that extends south from the courtyard.
The 2-story buildings that flank the courtyard are about 5,000 square feet. The 2,500-square-foot first floor of one building will house The Tides, which will also have about 900 square feet of outdoor dining space in the courtyard.
The other first floor is designated for retail and DeChellis said it will likely be a market, possibly run by Kelleher in conjunction with The Tides.
"We've had a lot of interest from people wanting to open a market there," he told Vero Beach 32963.
The second floors of both 2-story buildings and the third floor of the 3-story building will be office space totaling 7,650 square feet, according to city documents.
"There has been great interest in the office space, especially from medical," DeChellis said. "There's no pediatrician within 10 or 15 miles of St. Ed's, and I am excited about the idea of possibly having one move into the project.
"The office space on the third floor of the middle tower – 1,200 or 1,400 square feet – is earmarked for my office," DeChellis said. "If someone else came along and really wanted that space for their business, I would consider it, but right now I am planning to take it myself."
"We will go in for our construction permits in the next month or two and start construction in the first quarter of 2024," said DeCellis, who grew up in Vero, attending St. Edward's School and fishing in the Moorings canals before going on to Rollins College, the University of Chicago and a successful career in banking and wealth management.
He was CEO of Credit Suisse Private Banking in 2008 when he paid $675,000 for the 1410 A1A development site. In 2014, at the end of his stint at Credit Suisse, he and his team drew up plans for a mixed-use development on the site similar to the one now in the works. The site plan was approved by the city, but DeChellis hit the pause button at some point, deciding the market was not ripe for the project.
"This will be a Class-A-plus building," he said. "With all that has happened in Vero in recent years, I am confident the market will now sustain the building."
DeChellis was CEO and president of Boston Private Bank & Trust, when it was acquired by Silicon Valley Bank in 2021 for $900 million in cash and stock, according to WealthManagement.com.
That same year, DeChellis made a number of additional real estate investments on the island.
In May 2021, he bought 1401 Highway A1A from ONE Sotheby's International Realty broker-associate Michael Thorpe, paying $2.15 million for the 16,000-square-foot office building.
Built by Proctor Construction in 2003 and located across the street from the mixed-use development site, the building houses the main Vero office of ONE Sotheby's, which acquired Thorpe's real estate business in 2019 but not the building he operated from.
In August 2021, DeChellis closed on 3103 Cardinal Dr., paying $1.8 million for a little more than half an acre of land and two commercial structures, including the 4,000-square foot building where The Tides is located.
The same day, he closed on the 14,000-square-foot, 2-story, L-shaped office building next door to The Tides on the north side, paying $3 million for the Colonial-style frame structure and another third of an acre.
DeChellis said the Central Beach redevelopment project would involve tearing down the existing buildings, which were built between 1950 and 1981, and "replacing them with better buildings" in the Anglo-Caribbean style popular on the island. He said plans are being drawn up now by Moulton Lane Architects, the same firm that designed his mixed-use project in South Beach.
"Contractors who are bidding on the mixed-use project tell us it will take 12 to 14 months to finish," DeChellis said, which would push completion into spring/summer 2025.
"Once construction is complete, it will take another couple of months to fit out the restaurant, which is going to be very nice. As soon as that is done, Tides will move in and we will demo the Cardinal building."
Kelleher expects the move to go smoothly. "We have lots of time for pre-planning. I have shiny new kitchen equipment that will be going to the new place. I bought it knowing that we will be moving there so it will work perfectly."
The entrepreneur and chef, who is known for her X, Y and Z, said it will be only a week between the last meal served at the Cardinal location and the first at 1410 A1A.
"I will work night and day to get it done," she said. "We will have it all figured out and my whole staff will be helping, working to get it done. We did that when we moved into our current location. We were painting until midnight the day before we opened. We work. We take care of it."
There was the normal hand wringing at the Planning and Zoning Board meeting in October by neighbors concerned about parking and noise, but DeChellis and city officials were able to answer the objections and the board approved the site plan unanimously.
"The site is more than an acre and there will be plenty of space for construction workers to park on our property. When we finish, we will have abundant parking, between 60 and 69 spaces."
In fact, island residents should be grateful that DeChellis is a local with the best interest of 32963 at heart.
He was in talks at one point with Southland Corp., owner of 7-Eleven,  looking at the possibility of incorporating their property into a larger mixed-use project. After acquiring Speedway's 3,800 stores for $21 billion in 2021, Southland made a counter-proposal, floating the idea of DeChellis building a big, 16-pump Speedway station that would occupy the existing 7-Eleven site and his property.
"Of course, I said no," DeChellis said.
"That would not have been right for the island. Vero Beach is one of the more special towns in Florida and a place where I have a big personal stake. There are a lot of great things happening in Vero and I want to be in that mix, helping shape [an upgraded built environment] ... that will be here for the next generation," said DeChellis.