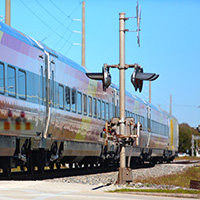 To no one's surprise, Vero out of mix for a Brightline station
STORY BY GEORGE ANDREASSI (Week of November 9, 2023)

While Brightline has stirred up some excitement in St. Lucie and Martin counties with its plans to pick one as the site of a new Treasure Coast rail station, exclusion of Vero Beach from the RFP process for the new high-speed train stop comes as little surprise here.
Indian River County spent approximately $4 million unsuccessfully fighting to halt extension of the train from Palm Beach to Orlando through the county, finally ending its quixotic effort when Brightline agreed in June 2021 to install $31 million worth of additional safety improvements along the Florida East Coast Railway tracks here.
Brightline did not contact the City of Vero Beach regarding the RFP it issued for a Treasure Coast station, Vero Beach Public Works Director Matt Mitts confirmed Monday. "We inquired with Brightline two or so years ago and they were unresponsive to a discussion."
"The community's concerns have been vocal and well-documented, making the exclusion from the selection process a predictable outcome," Dan Lamson, executive director of the Indian River Neighborhood Association, said Monday.
"While there might be a sense of lost opportunity for the increased connectivity and economic stimulation, the prevailing view in Indian River County has been to prioritize the well-being of our community over the potential benefits a Brightline station might bring," Lamson said.
Brightline's RFP set a deadline of Dec. 22 for private and public landowners along the Brightline/Florida East Coast Railway corridor in St. Lucie and Martin counties to submit proposals. The company intends to enter negotiations with property owners in early 2024.
The goal is to complete the permitting and design of the Treasure Coast Station in 2025, so the facility can be built in 2026 and 2027 and open in early 2028.
"Constructing a station is not a simple process," Mitts said. "It would require investment from the government, be it municipal, county, or other. Brightline does not construct or operate a station at its own expense."
Brightline opened a 38,000-square-foot station in Boca Raton in December 2022 that cost $56 million to build, with $10 million coming from the City of Boca Raton and $16.3 million from the federal government.  The city leases the site to Brightline for $1 per year.
While Indian River County has been left on the sidelines in the selection process for Brightline's Treasure Coast station, Martin County is preparing to participate, said Martin County Commissioner Ed Ciampi.
Martin County commissioners were set to vote Tuesday on whether to participate in the RFP process, and if so, whether to spend $125,000 to prepare a proposal.
The two locations under consideration by the Martin County government are the county courthouse parking lot on Flagler Avenue in Stuart and the county fairgrounds on Dixie Highway, county records show.
If commissioners approve, Martin County administrators intend to engage a consultant to study the potential station locations and report back in December with a draft of the county's proposal for a Brightline station.
Closer to Vero, Fort Pierce is considered by many the leading candidate for the Treasure Coast station.
Brightline has scheduled private meetings on Nov. 28 in St. Lucie County and Nov. 29 in Martin County with landowners considering submitting proposals.
Brightline started train service between Orlando and South Florida on Sept. 22 after spending $6 billion and four and a half years developing high-speed railroad tracks.
Brightline runs 30 trains per day at speeds reaching up to 110 mph in Indian River County.
"The biggest impact we've noticed is calls and complaints regarding the train horns," Mitts said.
City officials would like the county's Metropolitan Planning Organization to consider applying for quiet zones throughout Indian River County, Mitts said. Additional safety measures at railroad crossings could overcome the requirements to sound the horn as a train approaches.