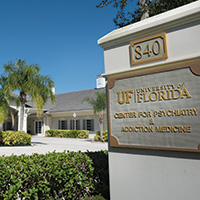 UF Health outpatient mental health clinic in Vero to close
Staffing a major problem; Hundreds of patients being referred to other providers
STORY BY LISA ZAHNER (Week of November 2, 2023)

After 15 years of compassionately serving the mental health needs of Vero Beach residents young and old, the doctors of the University of Florida Health Center for Psychiatry and Addiction Medicine are closing the clinic on 37th Place on Dec. 29th.
UF attempted to recruit two different entities to take over the busy outpatient practice, but unfortunately, neither one will be assuming the caseload of 2,600 patients, of which about 250 are children and teens.
Dr. Wayne Creelman, director of the center, said when he couldn't find the right fit in a successor, he began the process of notifying the patients and referring them out to other providers.
"We've got eight different providers that we'll be sending patients to," Creelman said, crediting the McCabe Connections Center on 14th Avenue with being extremely helpful with the referrals.
Creelman and his rotating staff of psychiatry residents and psychologists set up an outpatient practice in Vero Beach in October 2008 with a generous grant from the Robert F. and Eleonora W. McCabe Foundation to fill a critical need in the community for behavioral health treatment. Then in 2013, funds were raised to extend the agreement with UF another five years.
As the 10-year-mark approached in 2018, it appeared that the funding to support the outpatient clinic had dried up.  But again, the community came together, with help from private donors and the Indian River County Hospital District, to extend for a third five-year period.
At its largest, the UF practice had eight doctorate-level professionals in the building every day, Creelman said, plus a variety of medical students, including doctors-in-training from Florida State University and St. George's University Medical School in Grenada. When the pandemic hit, UF medical school and graduate psychology students could not venture outside Alachua County, and travel stopped from Grenada.
Now there are two medical doctors and two PhD psychologists, and by the time doors close just after Christmas, Creelman will be the only doctor remaining. 
Dr. Creelman said the reasons for UF's departure are complex. Yes, it's about money, but no amount of fundraising could have extended the university's practice in Vero this time, he said.
"The basic problem is attracting young men and women who are psychiatrists finishing their residencies who want to do academic medicine," Creelman said. "And when I talk about academic medicine, what I'm talking about is a young man or woman who finishes a psychiatric residency program and they want to teach.
"They want to teach the next generation of providers, they want to do research, they want to write papers, they want to write books. They want to do things academic as well as see patients."
Those who signed on with Vero's UF center providing one-on-one psychiatric care, medication management and psychotherapy while fulfilling academic duties earned about $100,000 less per year than if they went straight into private practice, Creelman said.
With the pressure of up to a quarter-million dollars in student loan debt on the shoulders of most young doctors, that pay differential has been a tough sell.
"The person has to really have a passion to come into academic medicine today," he said of the associate professors he's worked with.
Despite Vero's generosity in supporting the center, Creelman said rules and regulations limit how much doctors employed by the university can be paid, so he couldn't simply offer them more money.
At the start of the program, the hope was that some of the residents and medical students would fall in love with Vero and choose to stay. At least two psychiatrists and three doctorate-level psychologists who trained under Creelman at the UF center have established private practices in Vero.
Creelman said the UF center treats people strictly on an outpatient basis. The UF Health psychiatrists and psychologists do not make rounds at or consult at Cleveland Clinic's behavioral health facility.
After Hospital District Trustee Kerry Bartlett heard about UF Health's plans back in August, district staff pulled key players in Vero's mental health community together on Aug. 15 for a discussion about the changes.
The hospital district's new Executive Director Frank Isele started on the job right after Labor Day, finding the void that UF would leave in the community as one of his staff's first priorities to tackle.
Though not the direct responsibility of the hospital district, ensuring the continuity of care for UF Health's patients is something the district is in a unique position to facilitate. Through professional partnerships or relationships forged as a grant-making agency, the district works with all of the community stakeholders in some way, so the board of trustees directed staff to take the lead in helping coordinate a smooth transition in any way they could, with Program Liaison Jenny Frederick serving as point person.
"We certainly have the working relationships, but at the end of the day we have the community's healthcare as our central focus," Bartlett said. "In ensuring a healthy community for all, when opportunities, challenges, barriers that come up in healthcare, the hospital district wants to be at the table and is happy to convene the stakeholders to facilitate a conversation."
To that end, the district hosted a follow-up meeting on Oct. 3 with Creelman, Cleveland Clinic Executive Vice President Dr. David Peter, plus leaders from the School District of Indian River County, the McCabe Connections Center, Treasure Coast Community Health, Whole Family Health Center, the Mental Health Association, the Visiting Nurse Association of the Treasure Coast, Tykes and Teens, Suncoast Mental Health, Legacy Behavioral Health Center, PUR Health and Wellness and New Season in attendance.
"Dec. 29 is rapidly approaching and there's a lot of work being done making sure those patients are transitioned. That's a big impact to the community," Isele said, adding that "everyone is jumping in" to do their part and he's amazed at the collaboration he's witnessed among all the local agencies.
With providers all coming together to assist, and Creelman's staff carefully referring individual patients to practitioners best suited to meet their needs or manage their medications, everyone should have a new place to land for care come January.
"It's been a reasonably smooth process, quite frankly. Our patients are sad that we're closing after 15 years, they certainly would much rather have stayed with us, but I think they're very comfortable in terms of the facilities that we're referring to – very solid facilities in the community, many of them that actually have come here in the last 15 years since I started," Creelman said.
When asked whether the mental health landscape, so to speak, is better off or worse off than when he arrived in Vero in 2008, Creelman pointed out that the COVID-19 pandemic has presented real challenges, calling it "a monster illness" for every segment of the community from school children who struggled with home-learning and lost steam academically to an aging population that felt isolated and scared.
The increased use of technology, psychotherapy via telemedicine, and treating patients in-person while wearing masks made a usually tough job just that much harder. But overall Creelman said he's seen positive gains during his 15-year tenure in Vero.
"We're definitely better off, but I'd use a scriptural analogy in that the harvest is great, but the laborers are few," Creelman said.
"We, too, are sad that we're closing. It's been a great run," said Creelman, who will be staying in the Vero Beach community, working on a part-time basis in the role of McCabe Family Ambassador, still as an employee of the UF medical school, using his 45 years of experience to consult and assist the community. The final decision to close was made by medical school officials in Gainesville, with Creelman's input about the untenable staffing situation.
"We've provided, I believe, state-of-the-art, very high-level psychiatric and psychological care to our patient population and we're sad it's coming to a close," he said.
Creelman will continue serving on the Women's Refuge Center and McCabe Connections Center boards "And I'll probably end up on a few more boards as I'll have more time," he said.