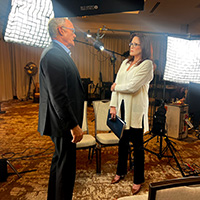 '60 minutes' interviews Vero co-founder of 'Moms' group
STORY BY RAY MCNULTY (Week of October 26, 2023)

Former School Board member Tiffany Justice, who grew up in Vero Beach and co-founded the Moms For Liberty, was interviewed last week by award-winning CBS News reporter Scott Pelley for a future segment on "60 Minutes."
Justice broke the news on Oct. 16, when she announced on X – formerly Twitter – that she and her group's co-founder, Tina Descovich of Indialantic, "just finished recording" the interview.
Her tweet, which alerted followers to "stay tuned for when the interview will air," was accompanied by three photographs from the set.
Last Friday, Justice followed up with a tweet that read: "Just received the transcript of this interview," adding, "Can't wait for it to air."
Neither CBS News nor the Moms For Liberty responded to emails sent by Vero Beach 32963 seeking comment on the interview and planned air date of the segment.
This will be the second appearance on a CBS news-magazine show for Justice and Descovich, who appeared together for a CBS Sunday Morning segment on book banning in public schools.
Both also have been regular guests on conservative news outlets. Justice, in fact, has been interviewed on camera by Fox News, Newsmax and the One America News Network.
She also has been a guest on Steve Bannon's "War Room" podcast on multiple occasions.
Founded in January 2021 by Justice and Descovich, who served on the Brevard County School Board, the ultra-conservative Moms group, which advocates for parental rights in education, now claims to have 285 chapters in 45 states with more than 115,000 members nationally.
In June, the Southern Poverty Law Center – a civil rights watchdog – included the group it in its annual "Year in Hate and Extremism" report, which labeled the Moms as an "extremist" coalition of "far-right anti-government parents" known for "intimidating and harassing teachers and school officials."
In a statement released on the Moms' website, Justice called the SPLC's designation false and libelous.
"Defamation is a hard claim in court, but it is certainly affecting our chapters and hurting our chapters all over the country … And it's totally unfounded," Justice said in the statement.  "We're not threatening to do it; we're going to do it, if we feel that we have an ability to do that."
Last summer, the Moms For Liberty held a national summit in Philadelphia, where the list of speakers included former president Donald Trump and two of his challengers for the Republican nomination in 2024, Florida Gov. Ron DeSantis and former South Carolina Gov. Nikki Haley.