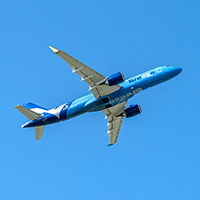 Breeze adds seasonal Vero-to-Long Island route
STORY BY RAY MCNULTY (Week of October 12, 2023)

At this time last year, Director Todd Scher would not have dared predict the level of activity Breeze Airways has brought to the Vero Beach Regional Airport.
"A year ago? No way," Scher said last weekend, days after the commercial carrier announced its plan further expand its Vero Beach operations by connecting our community to a fourth destination – Islip, New York – at least on a seasonal basis.
"Back then, Breeze's representatives were still in the exploratory phase," Scher said. "We were hopeful, maybe even optimistic, that they'd decide to come here. But they hadn't made any kind of commitment. We were just showing them around, letting them get acquainted with the airport.
"So what has happened over the past year, and especially since they began service here in February, has been phenomenal."
In fact, when Breeze adds twice-per-week flights to and from Islip Long Island MacArthur Airport on Dec. 21, the airline's operations in Vero Beach will increase to a combined 26 departures and arrivals a week.
Scher said he believes that level of commercial airline activity is unprecedented in the airport's history.
The addition of Islip to Breeze's Vero Beach route map expands options for local travelers, who currently may fly to and from Hartford, Connecticut, and Westchester County, New York. Then, starting Nov. 2, the airline will also offer service to and from Providence, Rhode Island.
Breeze also plans to add flights to those destinations, especially during the Christmas holidays.
Scher, who replaced longtime airport manager Eric Menger in June 2021, said he's eager to see how the Vero-Islip service is received by the local community, which has eagerly embraced Breeze's offerings to the other Northeast destinations.
"I wasn't sure where Breeze would go next, but I thought it might be Portland (Maine), because that's where we had service before," Scher said, referring to flights provided by Elite Airways, which returned commercial passenger service to Vero Beach in 2015, only to suspend operations in the summer of 2022.
"Islip, though, was the one city that more people kept mentioning over and over," he added. "And now that Breeze has announced it will be going there, I'm hearing that a lot of people plan to book flights.
"It seems to be a popular destination."
To start, Islip will be a seasonal route, with service scheduled to end on April 28. But Scher said a strong and steady response could convince Breeze officials to make it a full-time addition to its Vero Beach service.
Islip is located on Long Island, 60 miles east of Manhattan and 55 miles west of the posh, seaside town of Southampton. Two other airlines – Southwest and Frontier – also operate out of the 80-year-old airport, named after legendary U.S. Army General Douglas MacArthur.
"Right now, it's a seasonal route," Scher said, "so we'll find out if there's a demand for more than that."
The Islip route will operate twice weekly – on Thursdays and Sundays – with introductory one-way fares starting at $69.