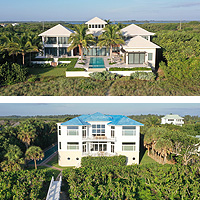 Estate Section spectacular: Four new listings go on market for total $49 million
STORY BY STEVEN M. THOMAS (Week of October 26, 2023)

Last week was a big one for ONE Sotheby International Realty's Vero Beach office, which debuted four listings with a total asking price of $49 million in the area that has become known as the Estate Section at the south end of 32963.
The star of the show is a world-class modernist home completed in 2020 and represented by longtime Sotheby's agent Sandra Alexander.
Designed by renowned Vero Beach architect Tom Hoos and built by Joe Foglia, one of the island's top luxury homebuilders, the 8,700-square-foot oceanfront house comes with a two-story great room with a glass wall facing the ocean and a third-floor observation area with true 360-degree views that extend from the Fort Pierce Inlet to Cape Canaveral.
"You can see the rocket launches perfectly from up there," said Alexander, who sold the current owner the 1.5-acre lot in 2016.
The gated property is located at 6600 N. Highway A1A, about 700 yards south of the Indian River County line. It is listed for $22 million and may not last long at that price. Approximately 60 agents and brokers showed up for the brokers open last Thursday.
"I got a very good reaction," Alexander said. "The feedback sheet was full of words like 'gorgeous, beautiful, awesome, wonderful and amazing!'
"I have already had an email from an agent in Miami who asked me to send all the links because they have a buyer it is perfect for, and I heard from a broker in Aventura whose clients saw it online and are super interested. One broker who came to the open house told me he had three buyers in mind who he would like to show it to."
The strong interest is not surprising. Above and beyond its long list of luxury  finishes and contemporary features, the house possesses a level of style and sophistication that would be perfectly at home in an elite Miami Beach enclave where homes go for $50 million or $100 million or on the Côte d'Azur.
"I am really proud of this one," Hoos told Vero Beach 32963 at the brokers open. "Of all the houses I have designed, it's my favorite."
Built on a dense array of steel-reinforced auger pilings and made of solid concrete, the home's lifespan will be measured in centuries unless someone tears it down at some point in the future. Hoos said the home was designed and built to last "indefinitely."
The house sits in an exceptional location, surrounded by preserve land overlooking a wide, accreting beach. The property north and south of it and across A1A belongs to Florida's Internal Improvement Trust Fund, a conservation land bank that's part of the Division of State Lands. It will never be built on.
"There is natural dune system and the beach just keeps getting wider," Hoos said. "I told the owner that whenever they put sand on the beach up by the Sebastian in Inlet, this is where it comes!"
Hoos and Foglia created the home for Stephen and Lisa Basile, but Lisa, an art teacher with an MFA, passed away before it was complete. Stephen told Vero Beach 32963 that it has been "fantastic" living in the modernist masterpiece but that it's more house than he needs now. He owns a condo in Boston and is thinking of moving back there, he said.
The other ONE Sotheby's homes that came on the market in the Estate Section last week are a little more than half a mile north on A1A, just south of Round Island Park. The three adjoining properties were listed by Sotheby's agent Danette Dieffenbach. There are two owners involved. Each owns one home and they share ownership of the third.
Together the houses sit on more than 3 acres and have more than 300 linear feet of beach frontage. Because the land is zoned R-3, a developer could buy the trio and develop a small subdivision. Or someone could combine the properties into a major oceanfront estate, similar to other trophy properties in the Estate Section, where homes are currently listed up to $60 million.
But the houses are also listed individually, with the largest home offered for $16,500,000. That four-bedroom, four-bath, 6,400-square-foot house was built in 1999 and sits on a 495-foot deep, 1.7-acre lot with 155 feet of beach frontage. 
Located at 2340 S. Highway A1A, it is owned by Dr. Miles Conway, who is known to 32963 readers for his efforts as president of the South Beach Property Owners Association when the organization was pushing for tighter restrictions on short-term vacation rentals some years ago.
Dieffenbach said both Conway and his wife are serious cyclists and that they are contemplating a move to Europe, possibly Majorca, which is known as a world-class cycling destination.
The stately home the couple will leave behind comes with a 185-foot by 15-foot heated lap pool and spa, USTA Har-Tru tennis courts and garage space for 12 cars, according to Dieffenbach. There is an office that could be a fourth bedroom and floor-to-ceiling windows with 270-degree views of the Atlantic.
Like Alexander's listing, the house is built rock solid on a forest of heavy steel-reinforced auger pilings and overlooks a broad, accreting beach.
Dieffenbach held an open house on Thursday in concert with Alexander's event and had a good turnout of brokers who came to preview the property and sip champagne while enjoying the ocean views.
She said broker response was mostly positive.
Next door to the north, Dieffenbach's second new listing is a four-bedroom, four-bath, 1,874-square-foot beach bungalow located at 2455 23rd St. SE and listed at $5.5 million.
Built in 1979 and renovated in 2007, the house has impact glass windows and doors with "panoramic glass sliders," according to Dieffenbach. There are two primary suites and cathedral and vaulted ceilings throughout.
The home is owned by Conway and Walter Forman, according to sunbiz.org. The two men formed an LLC in May and bought the property in June, paying $2.9 million.
Next door to the north, bordering Round Island Park, Dieffenbach's third listing is a "perfect little beach bungalow" built in 1980, which is owned by Janet Forman, according to county records. It sits on a half-acre lot at 2440 23rd St. SE with 80 feet of ocean frontage, has two bedrooms, two baths and 960 square feet of living space.
The small house listed for the eye-opening price of $27 million in the MLS because it is only available as part of a package with the other two properties.
The two smaller houses with the 23rd Street addresses are part of White Surf Subdivision, a little enclave that is unique in the Estate Section. Other Estate Section properties are large, ocean to A1A or ocean to river parcels with addresses are on A1A.
Dieffenbach said she thinks the enclave came to be because multiple partners in a group that owned a large lot decided to divvy up their investment by subdividing. There is a third house in White Surf, which sits along A1A but has a 23rd Street address. It is not listed for sale and would not be part of any "package deal" for the other three properties.
Dieffenbach said the 3-plus acres and three homes she has listed could become a multi-home family compound or remain as individual homes or be redeveloped. 
The Estate Section – a term coined by former Premier Estate Properties broker Clark French – continues to be one of the most compelling parts of the barrier island's real estate story.
Starting a mile south of the Moorings and extending a short distance past the St. Lucie County line, the 26-lot section has gone in a short period from being a windswept stretch of sand dunes to a neighborhood of "fabulous mansions," in the words of Indian River County Property Appraiser Wesley Davis.
Once a graveyard of developers' dreams, it has come into its own in just the past eight or nine years as a place where wealthy buyers have built or are today building custom homes as large as 40,000 square feet for their own families.
Long looked down on by brokers and buyers because it was seen as too far from town, "way down there at the south end," and because federal flood insurance wasn't available, it now is the priciest part of 32963, and has been a major factor in putting 32963 on the worldwide real estate map.
The 3-plus acres Dieffenbach is representing could put Vero Beach in the national and international real estate news again, depending on what happens there.