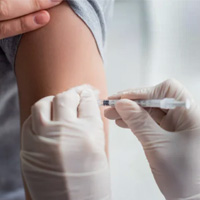 Few non-seniors line up for latest version of COVID vax
STORY BY LISA ZAHNER (Week of October 26, 2023)

With COVID-19 hospitalizations remaining low this month nationwide and throughout Florida, few people younger than 65 years old are rolling up their sleeves for the latest version of the vaccine even though a third updated booster option is now available.
According to an Oct. 12 Reuters report citing the U.S. Department of Health and Human Services as the source, only about 7.6 million Americans had gotten the new Fall 2023-version vaccine boosters so far. That's roughly 2.2 percent of the population. According to the Florida Department of Health's Oct. 13 report, nearly 19,000 or fewer than 1 percent of Floridians had gotten the new Fall 2023-version shot.
Vaccination rates have plummeted locally, with 78.6 percent of adults getting the original two-shot dose of COVID-19 vaccine, but only 19.1 percent of adults getting the Fall 2022-version bivalent booster, which has since been discontinued.
Among local Indian River County senior citizens age 65 and older there was huge demand for the first two-shot dose, with 95 percent being what was considered "fully vaccinated" in 2021, but only 35.7 percent of those age 65 and older opted to get the Fall 2022-version bivalent booster shot last year. No local numbers are available yet for the newest shots.
According to federal public health data, 92.7 percent of counties nationally and all 67 Florida counties are categorized as having low levels of COVID-19 hospitalizations, meaning fewer than 10 people per 100,000 residents hospitalized with COVID-19 illness.
Several western states, plus New York, have begun seeing a slight increase in the rate of positive Covid test results, but of the states that reported the number of Emergency Department visits due to COVID-19 illness, 27 states had "minimal" or fewer than 5 percent of patients presenting with COVID-19, and the rest reported "low" number of Covid patients for the week ending Oct. 14.
The Treasure Coast has seen a slight uptick in both Influenza and Respiratory Syncytial Virus this fall, but according to CDC data, emergency department visits for Covid, flu and RSV combined account for fewer than 4 percent of all people who show up at local emergency rooms for care.
The Novavax vaccine, a protein-based formula which does not rely on mRNA technology, joined the Pfizer and Moderna vaccines as the third updated formula designed to protect against B.1.1.5 Omicron and closely related subvariants of the SARS-CoV-2 virus. The U.S. Food and Drug Administration granted Emergency Use Authorization (EUA) to the Novavax shot this month, just weeks after emergency approval of the new Pfizer and Moderna shots on Sept. 11.
But a Kaiser Family Foundation COVID-19 Vaccine Monitor Poll of 1,296 adults released on Sept. 27 showed that only 23 percent of the nationwide group of people polled said they would "definitely" be getting the new Fall 2023-version shot.
Looking at just the people who had been vaccinated previously with an earlier COVID-19 vaccine formula, only 37 percent said they would "definitely or probably" be getting the new shot. Of the previously vaccinated people age 65 and older, the intent to get the new shot jumped to 64 percent.
Of those people polled who were parents of minor children, only 1 in 3 said they planned to get the updated shot for their babies, toddlers, kids and teens, with the parents of children age 6 months to 4 years old the most leery of the jab.
According to an Oct. 10 CDC statement, "By the end of 2022, COVID-19 vaccines had prevented 18.5 million COVID-19 hospitalizations and 3.2 million COVID-19 deaths in the United States."
Novavax hopes to attract people who want protection against emerging Covid variants but don't want an mRNA-based vaccine.
"COVID vaccine fatigue remains a major obstacle in maintaining immunity and keeping vaccination rates high," said Silvia Taylor, Executive Vice President and Chief Corporate Affairs and Advocacy Officer, Novavax. "Together with our partners, we encourage people to recognize the importance of making a plan to help protect their loved ones this season and have conversations with their healthcare provider about available vaccine options."
In partnership with the HealthyWoman initiative, Novavax has launched a pro-vaccination campaign targeting women, who the company says are often the decision makers for the family in terms of medical care and vaccinations for their children, spouses and aging parents.