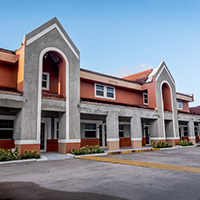 In nod to Three Corners plans, developer giving 'whole new vibe' to 17th St. Plaza
STORY BY STEVEN M. THOMAS (Week of October 12, 2023)

The ripple effects of Vero's riverfront Three Corners redevelopment have already begun, years before that ambitious mixed-use project is slated to break ground.
Scott Parker, developer of 3 Avenues Plaza, is renovating 17th Street Plaza, which adjoins the southwest corner of the city's land, giving a dated property a stylish new look and adding a suite of 17 executive suites with a conference room and lounge.
"This place was kind of stuck in the '80s," Parker told Vero Beach 32963. "What we are doing will bring a whole new vibe, along with more upscale tenants."
Parker purchased the 4.24-acre site and 45,000-square-foot building from members of the Schlitt family a year and a half ago, in part because of an expectation that property near Three Corners will increase in value.
The Three Corners hotel, marina, shopping, dining and recreation project is projected to transform Vero Beach's riverfront and attract hundreds of thousands of visitors annually, including locals and tourists.
Parker picked up the 17th Street Plaza property for the bargain price of $3.6 million.
"I lucked out," he said. "It had been under contract and the buyers backed out when they saw how much work needed to be done, so I was able to get a good deal."
The building was built in the 1980s, according to property records, and looked like it. But when Parker took a closer look, he saw that the bones of the L-shaped plaza were good.
With no need for major structural work, Parker is putting his time and money into a complete exterior renovation that will include a new roof, new stucco, new lighting and new landscaping when it is complete.
A rendering of the completed project shows a sleek, modern-looking building with a metal roof and gray and white color scheme.
In concert with the renovation, Parker raised lease rates to attract a more upscale set of tenants. When existing tenants move out, he is "completely updating each unit, with new flooring, lights, fixtures and paint."
He has also created a new business, Office Vero, which he built out in some neglected second-floor space that hadn't been occupied in years.
A high-tech wall mural company has moved into one of the bright, contemporary office spaces, and Parker said his crews are putting the finishing touches on the other units and the lounge and coffee area. He said units will be ready for move-in "within the next two weeks."
Parker hopes to add a café to the mix at some point if he can work out permitting issues with the city, so that his tenants don't have to leave the plaza to grab a sandwich or salad for lunch.
The project website, officevero.com, invites potential tenants to join "a vibrant community of business professionals and entrepreneurs in our sleek, modern offices. Whether you're a freelancer, startup, or established company, our flexible workspace solutions are designed to meet your unique needs."
In that vein, Parker is offering customized floorplans and furniture for the 17 units, which start at about $700 a month. "There is a need for this in the community," he said.
When the co-work units are occupied, the plaza will have 54 tenants, and Parker said the project is shaping up to be "a home run," based on the purchase price, cash flow and location.
While the outlook is rosy, the developer has encountered some unpleasant surprises on his way to success with the project.
"My insurance went from $42,000 last year to $104,000 this year," he said. "My FPL bill is 30 percent higher."
To maximize his investment, he is thinking about putting up a two-story building with parking below at the front of the property, right on 17th Street.
"The Schlitts had an architect draw up plans for a building there that I came across in my due diligence, and it is something I'd like to pursue," Parker said.
The developer, who lives in Ocean Ridge on the barrier island, has two other projects underway nearby. He bought Delta Plaza at 1145 U.S. 1 across from Wawa two and a half years ago, paying $2,800,000 for the 1.5-acre site and 12,840-square-foot building, which dates to 1974. He renovated the exterior and "re-tenanted the building," same as he is doing at 17th Street Plaza, a process that he said is almost complete.
He's also building Bespoke Lofts at 630 12th St., a couple of blocks west of Delta Plaza, where he will build 17 custom, luxury storage units that include a small condo as part of the package.