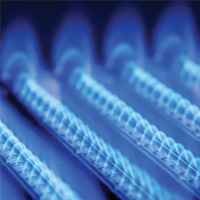 Natural gas to John's Island delayed to '24
STORY BY LISA ZAHNER (Week of October 12, 2023)

John's Island residents won't see natural gas service until the summer of 2024 due to delays by Florida City Gas in executing a utility franchise agreement with the Town of Indian River Shores, but Windsor residents are getting gas lines run to their community now.
Had the Shores' legal team and Florida City Gas ironed-out the contract details back in the spring as expected, gas lines could have been installed this past summer through most of John's Island.
But the town council got the final documents to vote on in August and September – the agreement was drafted as an ordinance which required two public hearings – and some easement agreements are still pending a vote later this month.
According to John's Island General Manager Mike Korpar, the contract giving a Florida City Gas subsidiary the non-exclusive right to provide piped-in natural gas to Indian River Shores just happened too late to make construction feasible this year.
"We have yet to have a meeting with Florida City Gas," Korpar said last week. "We are now in the beginning stages of setting up meetings with them. Our first meeting will be with their construction team to give them a tour of our property and show them our infrastructure so they have a better idea in what their challenges may be when installing the lines."
Part of the charm of the John's Island aesthetic is its winding roads lined with grand live oak trees – features that make a picturesque, walkable community, but not the easiest of terrains for a linear pipeline system.
"In speaking with Tim Knutson of Florida City Gas, he estimated that at the earliest it would be next summer (2024) before any work would be started in John's Island," Korpar said. "Between now and then Florida City Gas plans on having a meeting for our residents to attend to explain the process, costs, etc., and see how much interest there is in the community."
Running underwater gas lines out to Gem Island and Coconut Palm Road on the Indian River Lagoon side of John's Island will require special environmental permits, Korpar said last spring, so those residents will not be in line for natural gas for two years.
Meanwhile, on the north barrier Island, Florida City Gas has not yet negotiated a franchise agreement with the Town of Orchid, but Windsor falls under Indian River County's existing gas franchise so work on the northern fork of the gas expansion could begin.
"We are currently installing gas mains within Windsor with plans of providing natural gas service to the Windsor Clubs and some residential customers in the very near future," Florida City Gas spokesperson Katerina Alvarez said last week. "We are working together with other communities who have expressed interest in natural gas and we are excited to provide them with clean and reliable service when available."
Gas lines running through the Shores and into Central Beach will soon be available to fuel restaurants along Ocean Drive. When the expansion project is complete, natural gas service should be available along Cardinal Drive and in the Beachland Boulevard business corridor as well as on the beach.
"Our distribution system is currently installed along Ocean Drive and Florida City Gas will be installing additional distribution mains within the Central Beach area very soon," Alvarez said. "Additionally, we will begin the installation of gas services to the individual businesses who have signed up for natural gas service within the next several weeks."
The Strand community was the first to get natural gas service this spring, as the developer made arrangements with Florida City Gas to install a temporary gas trailer inside the development. That way, all the newly constructed homes could start out with working gas appliances.
For GHO Homes President Bill Handler, who has plans to construct more than 100 residences between The Strand and neighboring Seaglass communities, the certainty of natural gas service has boosted the popularity of his homesites for sale.
"It's one of the main questions we get in all of our communities, do you have gas service?" Handler said.
Among the reasons for interest from clients, Handler said, "most people from up north are used to cooking with gas. After that it's the efficiency of the natural gas water heaters. We use all tankless gas water heaters. With the clothes dryers they could go either way, about 50-50 gas and electric."
Handler said he expects to open three model homes later this month featuring natural gas appliances.