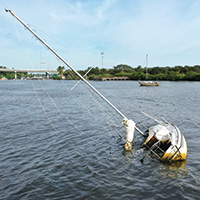 Removal of derelict vessels from lagoon finally gets underway
STORY BY CASEY STAVENHAGEN (Week of October 26, 2023)

Hurricanes Ian and Nicole may be a fading memory, but the 2022 storms left some lasting calling cards – 18 derelict vessels in or near the Indian River Lagoon.
In late September, the county removed three of the abandoned boats – one west of Fritz Island north of the Merrill Barber Bridge, one near the Main Street boat ramp in Sebastian and one in the St. Sebastian River – and now crews have turned their attention to three more nuisance boats.  
Aside from being an eyesore, derelict vessels can threaten other boaters, water quality, and the health of plant and animal life. The inoperable boats can leak pollutants such as fuel, engine oil or cleaners into the water, while their hulls' resting spots can damage the lagoon's oyster reefs.
The removal process is not as simple as finding the boat and yanking it out of the water, said Indian River County Natural Resources Lagoon Environmental Specialist Melissa Meisenburg.
"There is a step that has to go through law enforcement," Meisenburg said. "The vessel has to be identified as derelict and then moved through the process of finding the potential owner, as well as sending that information to the owner to give them an opportunity to remove the vessel themselves."
That notice gives the vessel's owner 21 days to remove the boat. After the 21 days expires, the Florida Fish and Wildlife Conservation Commission (FWC) sends a letter of authorization for removal to the Florida Boating and Waterways Management Commission in Tallahassee for approval. Once approved, the county may remove the boat.
The three boats removed in September cost Indian River County nearly $32,000, though state wildlife officials reimburse the cost in full through the FWC Bulk Derelict Vessel Grant program.
"Most of these vessels were from the hurricanes we experienced last year, so it was important to go ahead and get these vessels moving as they were starting to take on sediment and water at the same time," Meisenburg said.
Removal techniques vary depending on the boat's dimensions and what it's sitting on. The county used a crane to remove the largest boat of the three because it was wedged between a dock and the mangroves.
At 48 feet, the boat's size and location made removal without damaging the mangroves a challenge.
"To reduce impacts to the environment, sometimes it's necessary to bring in heavy equipment. Some boats are easy – they can be floated and pulled out – whereas others require a crane," Meisenburg said.
Fish and Wildlife granted authorization for the removal of the first three vessels in April, and once the project began in September it took 24 days to complete due to weather delays. Contractors then took the nuisance boats to the landfill for disposal.
Of the 15 remaining vessels, seven are near the spoil islands in Vero Beach. Though the boats are abandoned, the State of Florida still considers them private property, and exploring a derelict boat is both unlawful and dangerous.