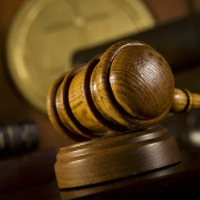 Resolutions to criminal cases still a ways off
STORY BY LISA ZAHNER (Week of October 26, 2023)

Several criminal cases island readers have been following are still winding their way through the backlogged felony court system.
Nearly two years after allegedly crashing into two 90-something year old pedestrians leaving the Vero Beach Christmas parade, a 74-year-old Summerplace woman finally is set to be tried next month for the felony of leaving the scene of an accident, and for driving under the influence of alcohol with damage to property or persons.
According to her arrest record, Susan Harvey told police she'd had dinner with friends at the Ocean Grill, including two Cosmopolitan drinks, and that she did not know she had hit the pedestrians on the 3400 block of Ocean Drive. An off-duty Vero Beach Police officer helped out, getting Harvey to pull over after leaving the crash.
Police say Harvey smelled of alcohol, failed to perform roadside sobriety tests and registered a .129 and a .130 blood-alcohol level on a breathalyzer – over Florida's legal limit of .08. Out on $50,500 bond since December 2021, Harvey is represented by defense attorney Bobby Guttridge and is set to stand trial before Circuit Court Judge Robert Meadows.
Meanwhile, convicted former Indian River County fire-rescue chief Brian Burkeen was scheduled to be back in town from state prison in Raiford this week to challenge his lengthy sentence for stealing hundreds of thousands of dollars worth of county property in a black-market tire sales scheme. But just hours before his hearing, it was postponed to December.
Burkeen was sentenced to 12 years in prison plus 18 years of probation in July 2020 by now-retired Judge Dan Vaughn after pleading no-contest to first-degree felony grand theft charges.
An error was discovered on Burkeen's sentencing worksheet, taking the total score down from a 92 to a 56, and Burkeen alleges that both the judge and prosecutor treated him unfairly as a first-time offender when he was re-sentenced to the same combined 30-year term of punishment in February 2021. The revised score, Burkeen's attorney asserts, should have corresponded with only 21 months in prison. Burkeen appealed the second sentence but was shot down, making the sentence final in 2022.
Burkeen claims there was no explanation given for a sentence so much harsher than the guidelines. "There was also no explanation on the record for why the sentence remained exactly the same in the face of such a staggering difference in the scoresheet. There can only be one logical explanation: prejudice."
"The imprisonment portion of the sentence – 12 years – was nearly 7 times harsher than Burkeen's of 21 month guideline sentence and his overall 30-year sentence was 17 times harsher," the court pleading said. "A second appeal was taken, arguing that (1) the trial court had a policy against downward departures and that it failed to give the proper weight to the scoresheet and Presentence Investigation Report (PSI); and (2) there was a lack of PSI for the resentencing."
The pleading alleges that "a massive amount of inadmissible hearsay" was allowed at the re-sentencing and quotes several statements by Assistant State Attorney Lev Evans that Burkeen claims were unfair or untrue, giving him the right to a new evidentiary hearing before a new judge.
Judge Victoria Griffin, who is assisting Judge Robert Meadows with the felony docket, will hear Burkeen's arguments, plus testimony from key witnesses.
Finally, in the case of former Holy Cross Catholic Church administrator and bookkeeper Deborah True, accused of stealing more than a half million in church funds donated by parishioners, not much is happening and the case has been continued numerous times while True has been out on bond since her arrest in 2022.
The State of Florida seems to be collecting discovery documents detailing what True's day-to-day accounting and fiduciary responsibilities were to the church and its members, and defense attorney Andy Metcalf has deposed the lead Vero Beach Police detective who investigated the crimes, plus the Catholic church's Palm Beach Diocese Finance Director Vito Gendusa, CPA about the case.