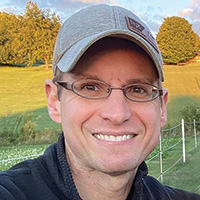 Search ends for swimmer missing off Moorings
STORY BY NICK SAMUEL (Week of October 26, 2023)

On Saturday afternoon, 46-year-old Moorings resident Jonathan Michael Christy hit the beach with his wife Jennifer Faletto for his regular workout.
Swimming in the ocean was routine for the St. Edward's graduate, one of the hobbies he loved along with listening to music, playing the piano and hiking with his dog.
The surf forecast Saturday called for sunny skies, mild winds, a moderate risk of rip currents and a surf height of 3 feet.
Christy entered the water near the 900 block of Reef Road, several miles south of the Vero Beach city limits.  Wearing gray board shorts and his prescription snorkel mask, he began swimming laps parallel to the beach about eight to 15 yards offshore, according to an Indian River County Sheriff's report.
But on shore, as 10 minutes went by and Faletto could no longer see Christy in the water, panic set in.  Faletto called 911 and asked beachgoers for help in looking for her husband.
Christy's disappearance launched a multi-agency search involving the U.S. Coast Guard, Indian River County Sheriff's Office, Florida Fish and Wildlife Conservation Commission and Indian River County Fire Rescue.
As of press time Monday, Christy had still not been found.
"He is such a strong swimmer, fit and loves to go to the gym," said longtime family friend Kyle Ball.  "It's such a shock to everyone."
A licensed professional counselor, Christy became the third local resident to go missing off the coast of Indian River County within the past two years. Family members urged as many people along the coast as possible to search the beaches for Christy.
It's the latest case of a person missing at sea off Florida's southeastern coast.
Indian River County Sheriff's officials issued a public alert on Sunday asking for help in locating Christy. Sheriff's Digital Forensic Detectives checked several locations in the area for possible surveillance video, according to spokesperson Sgt. Kevin Jaworski.
U.S. Coast Guard crews used a 45-foot-long response boat, an MH-60 Jayhawk aircraft, an MH-65 Dolphin helicopter and the 154-foot-long Cutter Bernard C. Webber ship to comb the Atlantic Ocean. Law enforcement officers continued to update the family on the case.
Christy's mom, Mary Lou Christy, and his cousin are part-time residents at The Moorings. His father, Frank Leonard Christy, who died in 2021, was a developer of the Hampton Inn & Suites on Miracle Mile. Christy doesn't have any children, Ball said.
Jonathan Christy graduated from St. Edward's School in 1995, Georgetown University in 1999 and Naropa University in 2013, where he earned a master's degree in Transpersonal Counseling Psychology, family members said.
Christy's sister, Kathleen Christy White of Illinois, a 1998 St. Edward's School graduate, traveled back to Indian River County to help with the search efforts. Family and friends continued to stay hopeful as the search for Christy remained ongoing.
"He's a wonderful guy. I've known him for 25 years," Ball said. "He lived in Italy for a while. He's well-traveled and a great person."