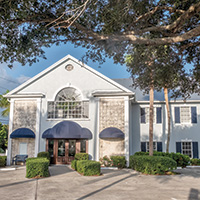 Site of Orchid's new Town Hall on island seen ideal fit
STORY BY SAMANTHA ROHLFING BAITA (Week of October 5, 2023)

After occupying an office in Wabasso on the mainland for a dozen or more years, Orchid's Town Hall is coming home to a far more convenient island location.
No date has yet been set for moving into offices in the Orchid Professional Centre at the northwest corner of the Wabasso Causeway and Highway A1A, but the second-floor space should be ready for its new occupants by year's end, according to Orchid Mayor Robert Gibbons.
At its Sept. 18 meeting, the Town Council approved the lease agreement with property owner Orchid Island Holding Company and the documents, Gibbons noted, were expected to be signed at some point this week. The initial term of the lease is 10 years with three five-year renewal options, with a monthly rental price of $4,134, to commence when the agreed-upon interior "build-out" has been completed.
Orchid's new Town Hall suite will occupy 1,750 square feet on the second floor and will include offices for the town manager, town clerk and building clerk, a kitchen, a large meeting room and a smaller conference room adjacent to the building clerk's office. 
Interior construction and renovation work, which will get under way as soon as the lease documents are signed, will be done by Ethos Custom Construction Inc. in accordance with the floor plan prepared by Natalie Holtom Interiors. 
Town Manager Cherry Stowe said the interior design will be "in the West Indies style" that the community favored in an online poll conducted in July.
Chosen design features include crown molding, mahogany millwork, luxury vinyl plank woodgrain flooring, white cabinetry and counters, LED lighting, tile, carpet, color palette, window treatments, interior furnishings, lamps, artwork and accessories. According to the lease agreement, the town will reimburse the owner, Will Collins of Orchid Isle Holding Company, $40,000 for build-out costs.
Although the council had been considering a new location for its Town Hall for several years, there had been no sense of urgency. Numerous ideas had been floated and shot down over the decades, including the prospect of constructing a new town hall.
"We weren't desperate," said Gibbons. There had been some thought given to a location at U.S. 1 and 510 (near where a Publix is now going in). But the fit never seemed just right.
And then Vice-Mayor Paul Knapp suggested taking a look at the Orchid Professional Centre. 
"So," Gibbons continued, "late last year, early this year, we started to look at it. It was the ideal size and, at A1A and 510, it was in close proximity to residents, contractors and other repeat service providers, convenient for permitting and licensing; parking on the south side was very easy to access from the causeway; and, coincidentally, it would soon become available.
"The negotiations with the owners have been very compatible," Gibbons said. "The landlord likes (us) as a long-term tenant and (we like) that his own office is in the same building. We know it'll be well maintained. It has a reputable, established history."
Stowe is excited about the move, and says it will "be helpful in fostering a greater connection with the community. Email and phones are convenient but (this will allow) more face-to-face, person-to-person communication."
The new offices will not, however, have space for larger community gatherings such as Town Council meetings.
State law requires such meetings be held on government property for municipalities with populations above   500. Because Orchid had never reached that number, Town Council and other open meetings have always been held on Orchid Island Club property, in the Sandpiper Room, which offers sufficient space. 
However, Orchid's population, per the 2020 census, has reached 560, exceeding that limit. Stowe said a bill introduced by Rep. Bob Brackett and Sen. Erin Grall will go before the state legislature in 2024 requesting that Orchid be allowed to continue meeting in the Sandpiper Room.
If all goes as hoped – "all T's crossed and all I's dotted," as Stowe puts it – Orchid will soon be running smoothly with not only a new Town Hall, but also a brand new town clerk, Vero  Beach resident Tina Woods, whose first day in the job was this Monday.