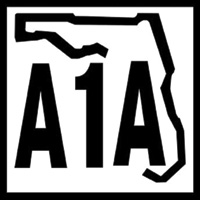 Wheels of justice turn slowly in A1A vehicular homicide case
STORY BY LISA ZAHNER (Week of October 12, 2023)

Orchid resident Elizabeth Jewkes-Danielsen, who is out on pre-trial release facing vehicular homicide and DUI manslaughter charges for the death of John's Island resident Christopher Ingraham in a May 2022 crash on A1A in Indian River Shores, still awaits her day in court on the serious felony charges, but her two traffic tickets from the crash have been dismissed.
She was issued tickets for not wearing a seatbelt, and for driving 30 miles over the posted speed limit – both citations based upon readings public safety officers obtained from the on-board computer of Jewkes-Danielsen's black Mercedes. The reason hand-written on both dismissal forms in the court file: "Can't use EDR (event data recorder) by itself to issue citation."
Though the criminal case has been continued multiple times, the attorneys are making some progress on moving it to trial. Defense attorney Andy Metcalf took several depositions in September, including from two Indian River Shores Public Safety Department officers, one Indian River County Fire-Rescue officer and one witness to the crash. Metcalf has scheduled five more depositions for this month.
The state recently released a list of 16 potential witnesses in the case, including employees of John's Island Security, the Orchid Island Golf and Beach Club, numerous Indian River Shores residents, plus experts and Florida Highway Patrol officers who worked the crash.
Assistant State Attorney Bill Long also issued a subpoena for medical records from Lawnwood Hospital in Ft. Pierce, the Level One trauma center where the injured Ingrahams and Jewkes-Danielsen were taken after the crash.
Based upon an analysis of blood drawn from Jewkes-Danielsen at the hospital, police say she was driving with more than three times the legal limit of alcohol in her bloodstream. While on pre-trial release, Jewkes-Danielsen must submit to weekly alcohol and drug testing and wear a GPS monitoring device.
In a separate civil lawsuit for wrongful death and negligence filed by Ingraham's estate against Jewkes-Danielsen and her husband Paul Danielsen, a California attorney, Jewkes-Danielsen has petitioned for the case to be delayed, pending her criminal trial.
Jewkes-Danielson and Paul Danielsen are mounting separate defenses to the civil case, with Paul Danielsen demanding the representatives of the Ingraham Estate show direct proof of the allegation that he and Jewkes-Danielsen were recklessly racing north on A1A in separate cars at a high rate of speed at the time of the crash. Danielsen repeatedly claims in his response that Jewkes-Danielsen was not in his custody or control at the time of the incident.
The Ingrahams' attorney has asked Danielsen to account for all of his whereabouts and actions from the time he left home that day until he arrived at Lawnwood Hospital to attend to his wife that night.
Both defendants have argued that the Ingrahams were partly at fault for the serious injuries suffered in the crash because they weren't wearing their seat belts. Jewkes-Danielsen has opted to invoke her rights under the Fifth Amendment to the U.S. Constitution in answering court interrogatories, to avoid incriminating herself in the pending felony case.
Christopher Ingraham's widow Frances Ingraham, now 91 years old, pleaded with Judge Janet Croom to expedite the case docket under a provision of the law regarding matters involving the elderly, but so far that request has been denied.