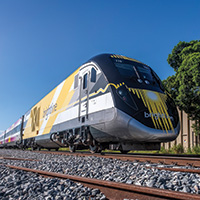 High-speed Brightline era begins here with not-so-high speeds, little fanfare
STORY BY MILTON R. BENJAMIN (Week of September 28, 2023)

The long-delayed start of high-speed rail service between South Florida and Orlando last week was pretty much a non-event for Indian River County as a dozen Brightline trains a day passed through Vero Beach without incident during the first weekend of service.
Newly upgraded rail crossings from one end of the county to the other were closed only for about a minute each time a six-car Brightline train passed, resulting in little disruption to traffic – and far shorter delays than mile-long Florida East Coast Railway freight trains regularly cause as they rumble through Vero at 20 mph to 30 mph.
While the advertised top speed of Brightline trains during their non-stop transit through Indian River County is 110 mph, their speed through downtown Vero is expected to be no more than 80 mph – and observers said it appeared considerably less than that on their early runs this past weekend.
Over the next three weeks, Brightline will ramp up to near-hourly service each way between South Florida and Orlando, reaching a planned total of 32 trains daily on Oct. 23.
The first regularly scheduled Brightline train to leave Miami on Sept. 22 arrived in Orlando at 11:05 a.m., where it was welcomed by more than 500 elected officials, business leaders, community partners and company executives.
There were no similar ceremonies in Indian River County, which as a result of its unsuccessful multi-year battle to block the expansion of Brightline, is expected to never have a station.
While Brightline installed millions of dollars of additional safety features along the tracks here following a June 2021 settlement of litigation with the county government, Sheriff Eric Flowers said his department had prepared for what he viewed as the inevitability of accidents involving the high-speed trains.
Each day, hundreds of pedestrians and bicyclists cross the twin railroad tracks now shared by Brightline passenger trains and Florida East Coast railway freight trains, Flowers said.
"My concern is someone is going to get blasted by that train quick, fast and in a hurry when we start running 32 of those a day," Flowers said. "We've been preparing for that train to hit pedestrians."
If a pedestrian or bicyclist is struck by a train, investigators would have to determine if the person was committing suicide, or got onto the tracks accidentally, or while intoxicated, Flowers said.
Another major concern is the possibility a motorist could be confused by a railroad crossing and get caught on the tracks when the gates are down and a train is coming, Flowers added.
"We have put some of our detectives through training for handling train versus pedestrian investigations," Flowers said. "We've had tabletop exercises, training where we've simulated a train crash, a passenger train crash, also derailments and issues with cargo and multiple train issues."
Staff Writer George Andreassi contributed to this story.