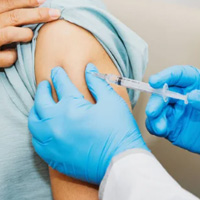 New Covid boosters available here, but Florida guidance may dissuade some
STORY BY LISA ZAHNER (Week of September 21, 2023)

New Covid boosters were set to be available locally this week – but with conflicting and confusing advice from the CDC, FDA and state health officials, it was unclear how many arms would be waiting to be jabbed.
While senior citizens aged 65 and older and those with complex health issues or compromised immune systems may eagerly await the new booster, Florida Department of Health officials disagree with the CDC and FDA on whether younger, healthy people should get the updated vaccine.
The Centers for Disease Control and Prevention and the Food and Drug Administration last week recommended all Americans aged 6 months and older receive the updated COVID booster.
But Florida Surgeon General Dr. Joseph Ladapo took issue with the new booster shots being given the federal go-ahead after human testing on 50 or fewer people, noting that one test subject in one of the tiny trials had experienced an adverse vaccine event.
Based upon the lack of clinical trial data on the new shots, plus on what he termed as a "high rate of global immunity," Ladapo recommended younger, healthy people not get the new shot, which should be available this week.
"The State Surgeon General recommends against the COVID-19 booster for individuals under 65. Individuals 65 and older should discuss this information with their health care provider, including potential concerns outlined in this guidance," a Florida Department of Health statement said.
"While the initial mRNA COVID-19 vaccines were authorized by the United States Food and Drug Administration (FDA) utilizing human clinical trial data, the most recent booster approval was granted in the absence of any meaningful booster-specific clinical trial data performed in humans," Ladapo said in a Sept. 13 statement. "In both cases the federal government has failed to provide sufficient data to support the safety and efficacy of the COVID-19 vaccines."
The statement went on to list bulleted risk factors that doctors or pharmacists offering the vaccine should share with patients. These range from the occurrence of myocarditis and other cardiac conditions after vaccination, the persistence of the "spike protein" from the vaccine in the patient's system long after vaccination, the unknown impact of frequent booster shots taken since 2020 and the findings in recent studies that stacking booster shots might be counterproductive over time.
Three different booster formulas are expected out this month – the Moderna Spikevax and the Pfizer-BioNTech Comirnaty, which were approved and recommended by the FDA and CDC last week, plus a new shot formula by NovaVax, which as of press time was still "under FDA review."
CVS Pharmacy on A1A in Indian River Shores showed available appointments online to get the Moderna or NovaVax shot as early as this Friday, as of press time. The island CVS did not show availability of the new Pfizer vaccine, but the Grand Harbor and 17th Street Vero Beach CVS pharmacies had Friday appointments available online for the Pfizer shot.
In the lead-up to FDA and CDC approval of the new Moderna and Pfizer boosters, top CDC personnel broadcast the message during August and early September that COVID-19 cases and hospitalizations were "on the rise" with only questionable data to support those statements.
Federal public health officials also warned again of a winter "triple threat" from influenza, COVID-19 illness and Respiratory Syncytial Virus or RSV. During the 2022-23 flu and RSV season, predictions of a "perfect storm" of the three viral infections converging thankfully did not materialize.
That threat of severe illness and overflowing emergency rooms drove demand for primary vaccine doses and boosters in 2022 and 2023.